Town Centre Living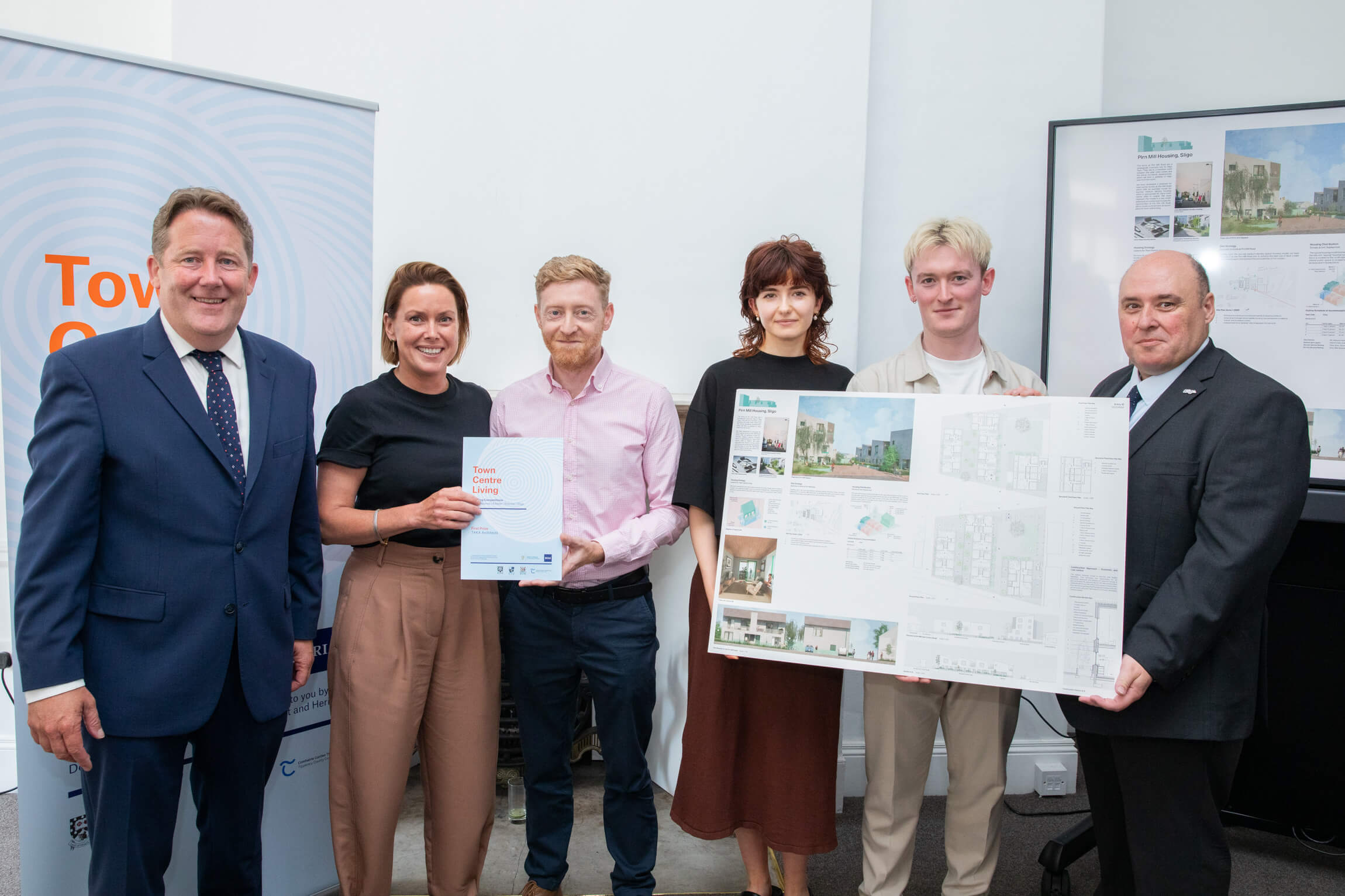 Sligo: (L-R) Minister O'Brien, Alice Casey, Cian Deegan, Jessica Keller, Dominic Daly, Jim Molloy
RIAI and Minister O'Brien announce Sligo Winners of Architectural Design Competition for creating high-quality homes in town-centre locations
14 June 2023: The Royal Institute of the Architects of Ireland (RIAI) and the Minister for Housing, Local Government and Heritage, Darragh O'Brien TD, today announced 'Housing at Pirn Mill Road' by TAKA Architects as the winning proposal for the 'Town Centre Living' architectural design competition in Sligo.
The 'Town Centre Living' competitions, which launched on 27 January 2023, aimed to encourage innovative designs from architectural firms for social housing within town centres across the country in Castleblayney, Kildare, Roscrea, and Sligo. The competitions aim to progress the Government's Town Centre First policy objectives of compact growth and town-centre revitalisation, by way of real showcase projects which will provide almost 100 new social housing homes. All competitions were adjudicated anonymously by four separate juries.
Comments on 'Housing at Pirn Mill Road' by TAKA Architects include:
Jury Citation (extract):
"The assessment panel were unanimous in their award to this submission which displayed an understanding of site, context and brief, a clear site strategy with a hierarchy of considered open spaces, supported by an innovative typology of building form and volumes. The block structure establishes permeability through the site with two defined routes. Almost unique amongst the submissions the proposal also addresses the construction approach, proposing timber frame off-site construction, to reduce carbon emissions and construction time. The jury considered that with its considered quality, clear resolution of the site and applicability to other town sites that this submission addressed all the critical aspects of the brief."
Architects' Statement (extract):
"We have developed a proposal for town centre homes at Pirn Mill Road which offer an exemplar model for low-rise medium-density housing which is also appropriate for many town centre sites in Ireland. We have deployed this model in a way which addresses and enhances the specific opportunities of the Pirn Mill Road site to create a vibrant and attractive place for town centre living."
In addition to the first placed winners, the competitions awarded prizes to the second and third placed schemes and commendations in Kildare:
Second Prize Winner: Aughey O'Flaherty Architects
Third Prize Winner: Hall Black Douglas Architects
Highly Commended: GKMP Architects
Speaking on the announcement today, RIAI CEO Kathryn Meghen said:
"The RIAI is delighted to have worked with the Department of Housing, Local Government and Heritage to deliver the 'Town Centre Living' competitions. This is an excellent and effective mechanism which we in the RIAI regularly utilise to deliver high-quality projects that exemplify architectural expertise. This is of particular importance when we consider the delivery of social housing design projects. The 'Town Centre Living' competitions will not only be delivering homes for people in four Irish towns across Ireland, but they will also contribute to creating sustainable communities in town centres, with access to amenities. I'd like to congratulate each of our winners, as well as commend all of the other shortlisted entries."
Commenting on the announcement, Minister Darragh O'Brien TD said:
"I am delighted to be here at the RIAI to announce the four winning design projects from this year's 'Town Centre Living' competitions. The 'Town Centre Living' competitions operate in line with the Government's Town Centre First policy that aims to tackle vacancy, combat dereliction, and breathe new life into our town centres. This year, we see the importance of excellence in social housing design more than ever before and I am delighted to share with you the innovative design solutions presented by the four competitions winners today as we work collaboratively to build sustainable communities in our town centres."
More information on the competition can be found here.
The Sligo Winner & Shortlisted schemes are also available from this dropbox (Sligo Folder) https://www.dropbox.com/scl/fo/wr47d5xng2ncjsj8xidc7/h?dl=0&rlkey=tfb991sr88bz9etzzeui0rbbk