N17 Knock to Collooney [AEC] Project - Submissions Extended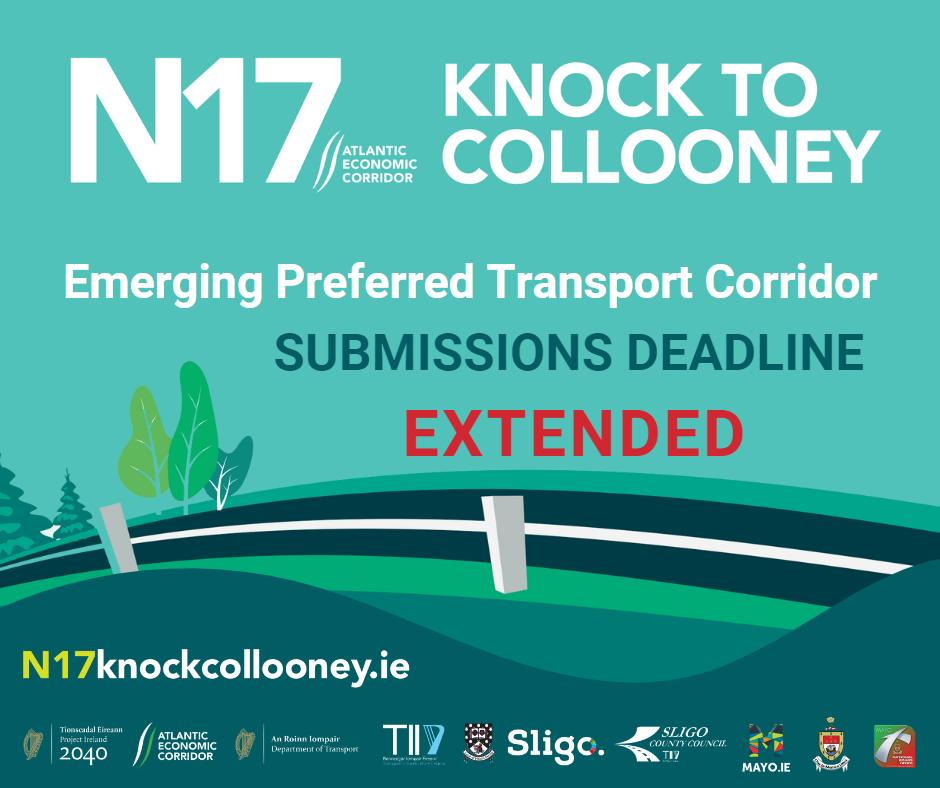 Sligo County Council have extended the deadline for submissions until 5pm on Friday 31st March 2023
Sligo Regional Design Office (RDO) released the Emerging Preferred Transport Corridor for the N17 Knock to Collooney [Atlantic Economic Corridor] Project on the 31st of January 2023.
The preferred corridor can be viewed on the project website https://n17knockcollooney.ie/
The project is now in a period of public consultation.
As part of the public consultation process, Sligo County Council are welcoming submissions from members of the public on the Emerging Preferred Transport Corridor.
Submissions can be made via email to n17knockcollooney@sligococo.ie or via freepost to:
Sligo Regional Design Office
Sligo County Council
Unit 1, The Embankment
Castle Street
Freepost FSG7627
Sligo, F91 E4XY
Following requests from members of the public, Sligo County Council have extended the deadline for submissions until 5pm on Friday 31st March 2023.
Sligo County Council would like to take this opportunity to thank the public for their cooperation and patience on this project to date and looks forward to working together to deliver this crucial piece of infrastructure for the northwest region.