Public Participation Network (PPN)
What Is Sligo PPN?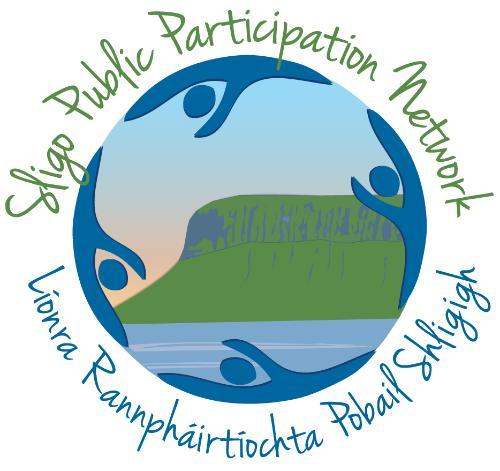 The Core Function of Sligo PPN is to enable community groups to give voice to a diverse range of views and interests within the local government system and fully participate in policy making and activities that will share the future development of our county.
In order to achieve function this we have a number of aims:
To strengthen the ability of people, groups and organisations to contribute in a positive wayto the community in which they reside or are active within.
To act as an information hub for local community and voluntary, environmental and social inclusion groups and organisations.
To break down the barriers that prevent people from feeling that their voice is being heard.
What Does Sligo PPN Do?
We empower our member groups to raise the profile of the community and voluntary sector in the county and support them to influence policy development.
We elect representatives onto decision making bodies
We highlight community issues to programme and policy makers
We make sure our members are consulted on local developments and strategies
We work in partnership to deliver tailored training to our member groups
We support our members with useful information and resources
"We joined the PPN so that our group could be informed about key decisions and proposals that take place in our county"
Why Should My Organisation Be Involved In Sligo PPN?
Be in a position to nominate trusted members of the community to key boards and committees to represent the community voice
Promotion of your group and it's activities through our growing PPN social media presence and across out entire network
Notification and opportunities to take part in consultations which will help shape the community sector in Sligo
Opportunity to network with other like-minded groups and to share experience and expertise
Learn about funding and grant opportunities and be eligible for locally administered funding schemes
Be part of an important information flow between community groups and local decision makers
Get access to tailored training that focuses on supporting the growth and development of community and voluntary groups
Receive information about programmes, activities and events happening across the county
"We joined the PPN to build relationships like minded community groups around Sligo"
Structures of the PPN
The PPN is split into 3 pillars that focus on the main 'cause' for voluntary groups and organisations. When an organisation registers with the PPN, they select the pillar that most closely resembles the main activity of their organisation.
Community & Vountary
For organisations who want to improve the quality of life and overall wellbeing of their community.
Environment
For organisations that aim to protect or sustain the environment through activities such as environmental education, protecting wildlife and sustainable planning.
Social Inclusion
For organisations who work to promote equality, inclusion and human rights for groups such as ethnic minorities, older adults and people with disabilities.
Terms
AGM
We hold an AGM at county level at least once a year. This is where members decide on the workplan for the PPN and hear about progress to date and. It also gives groups the opportunity to network, share experiences, inform the future development of the PPN and raise issues of collective concern in the community
Interest Groups
The interests of the Sligo community are wide and diverse. Though groups select themselves into pillars we are aware that they often have broader interests. Interest groups are special networks set up by members to allow groups from across the 3 pillars to come together around a core cause or special interest.
Community Representatives
PPN Representatives (Reps) are PPN members who have been elected to represent the community on a committee, board, or advisory group. The PPN Rep reports to and from PPN member groups to ensure a two way flow of information.
PPN Workplan
We have a public workplan that can be found on our website. This workplan evolves continually to reflect the issues we are hearing from the community and to tap into upcoming opportunities to influence change.
PPN Website
Sligo PPN website is a one-stop-shop for the community sector. On the site we give up to date funding information, promote events, have a Member of the Month feature, detail our achievements in influencing policy and give you hints and tips around strengthening your group.
Secretariat
The Secretariat is a board made up of 9 members elected by the full PPN membership. The Secretariat is responsible for overseeing the day-to-day running of the PPN.
Register as a Sligo PPN Member!
All the information you need to register your group as a Sligo PPN member is on our website: www.sligoppn.ie
You can also contact our office to find out more.
071-91 14425/14430
Public Participation Network
In September 2013 the Government established the Working Group on Citizens Engagement in Local Government to make recommendations on more extensive and diverse input by citizens into the decision making at local government level. The Report of the Working Group, published on 28th February 2014, recommends the establishment of a number of new structures to facilitate community engagement in local decision-making. In particular they propose the establishment of a 'Public Participation Network (PPN) in each local authority area to enable the public take an active formal role in relevant policy making and oversight committees of the local authority. Following the commencement of section 46 of Local Government Reform Act 2014 on 1st June, local authorities are required to establish PPNs immediately and all community representation on committees of the local authority must be sourced through the PPN. vRegulations on the new structures are due to be issued in December 2014.
Structure of the PPN
The PPN will be organised at both County and Municipal District level and will have a number of linkage groups on specific issues
The PPN will facilitate structured input by community and voluntary groups, social inclusion groups and environmental groups through representation on various local policy making committees such as the Local Community Development Committee, Strategic Policy Committee, Sligo Peace and Reconciliation Partnership and other policy making groups.
Activities to date
Development of a communications strategy with County Community Forum for establishment of PPN
The setting up of a website www.sligoppn.com and the distribution of information leaflets and posters throughout the county promoting the PPN and encouraging community groups to register.
Completion of Online and paper based registration process.
Advertisement in local media, press releases, interviews on local radio, briefings to Council Chamber, Municipal Districts and LCDC and online promotion of PPN
The establishment a unit in City Hall to deal with queries on the PPN, contact 071 9114430, e-mail sligoppn@sligococo.ie
Key workers/activists in the youth, volunteer, heritage, arts, environmental, social inclusion, sports and community sectors have been briefed and asked to distribute information and encourage groups to join
Public information sessions in Easkey, Tubbercurry, Ballymote, Grange and Sligo City.
Contact