Blog 9 - Scoil Ursula Food Garden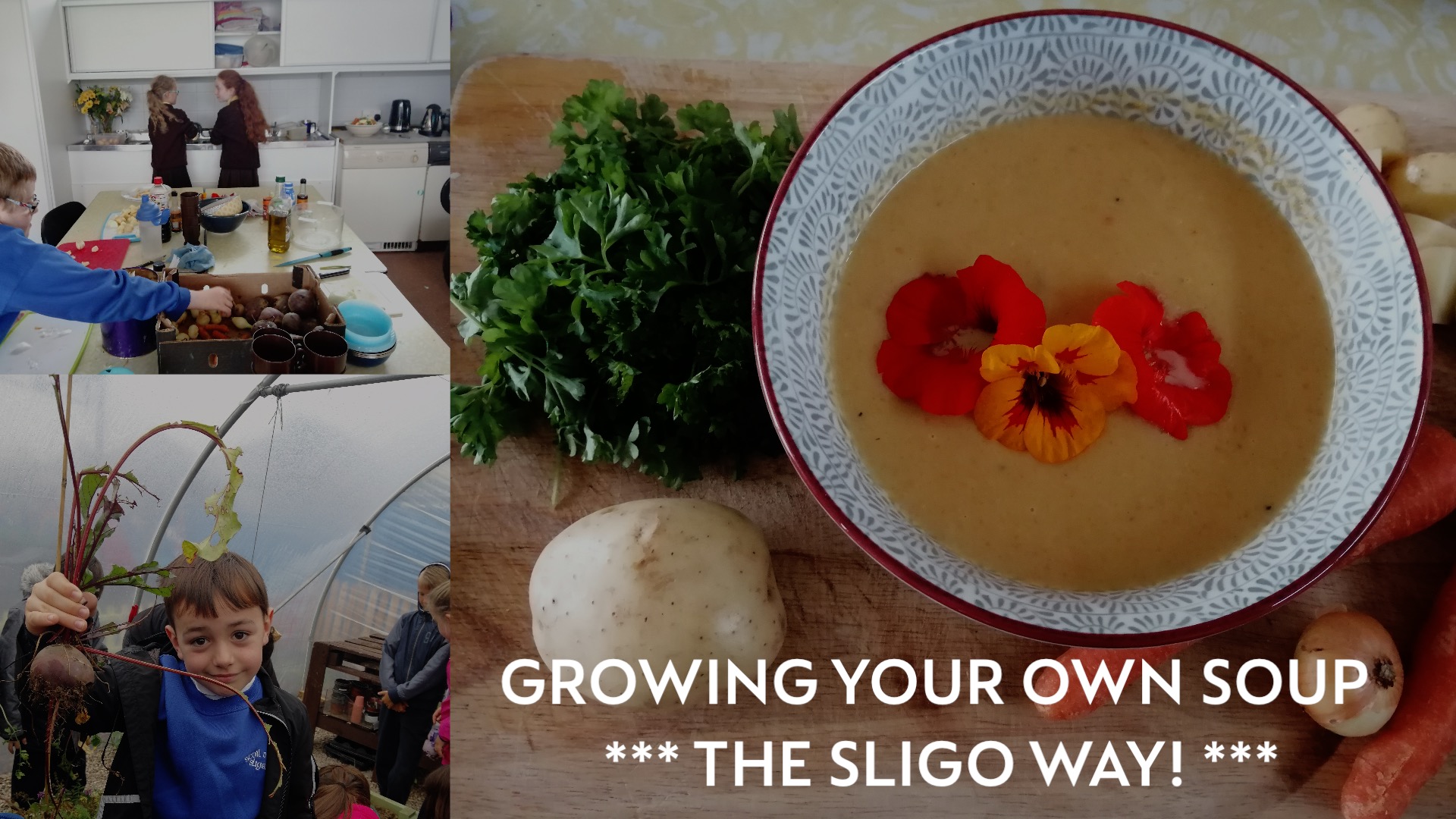 Outstanding example of food production & awareness in Sligo school
Plant – Grow – Harvest – Feed – All At School!
Clara Ryan, Garden Project Coordinator describes how Scoil Ursula feeds hundreds of children from food grown at school
In Spring 2016 Scoil Ursula, located on the Strandhill Road in Sligo, opened it's new Organic Garden. The garden was a culmination of much hard work on behalf of the children and teachers. Community links were forged with the local Men's Shed who made the wooden structures for the new raised beds. The Men's Shed kindly made and donated a lovely wooden picket fence which finished off the look of our garden nicely.
'From seed to table' was central to the ethos of creating this new organic garden. The children were educated on how to plant and grow a variety of vegetables, herbs and flowers. A large variety of vegetables were successfully grown in our eight new raised beds. These beds were painted bright child friendly colours by the staff to make the garden a stimulating and exciting place to be for the children.
In Autumn the various vegetables and herbs were harvested by the children. Huge pots of soup were cooked in the school by the staff and children using these harvested vegetables and herbs and 440 children this school year had an opportunity to enjoy the soup - happily the majority loved it!
The mini gardeners were very proud to say that all the ingredients for the 'Scoil Ursula soup' were grown in their school garden. A harvest lunch was also enjoyed by the staff using produce from the garden. The children write about their experiences in the garden as well as writing out the recipe for 'Scoil Ursula Soup' and also many parents are now making the same soup at home and report that the children love it.
Parents were also involved through a Summer watering, weeding and harvesting rota.
This garden has also - and very importantly - provided an exciting and stimulating environment for the children in the school with special educational needs and a calm and relaxing space for them to go when a break is needed from the classroom environment.
The project will be on-going and further developed into the future. The Parents' Association has kindly provided funds for a poly tunnel in Spring 2018.We are now able to garden regardless of the weather. We are also hoping to further extend the sensory aspect of our garden for the children with SEN.
It is felt strongly by all involved that the gardening project has been very successful and worthwhile, providing education to the children with regards to horticulture, healthy eating, science and environmental care and awareness.
Many, many hours of enjoyable but very hard work have been put into setting up this garden and getting it up and running. Now that the initial hard work has been carried out to establish the vegetable garden, it is very much hoped that it will be an invaluable source of education for the children into the future.