Blog 13 - IT Sligo strives for Green Campus recognition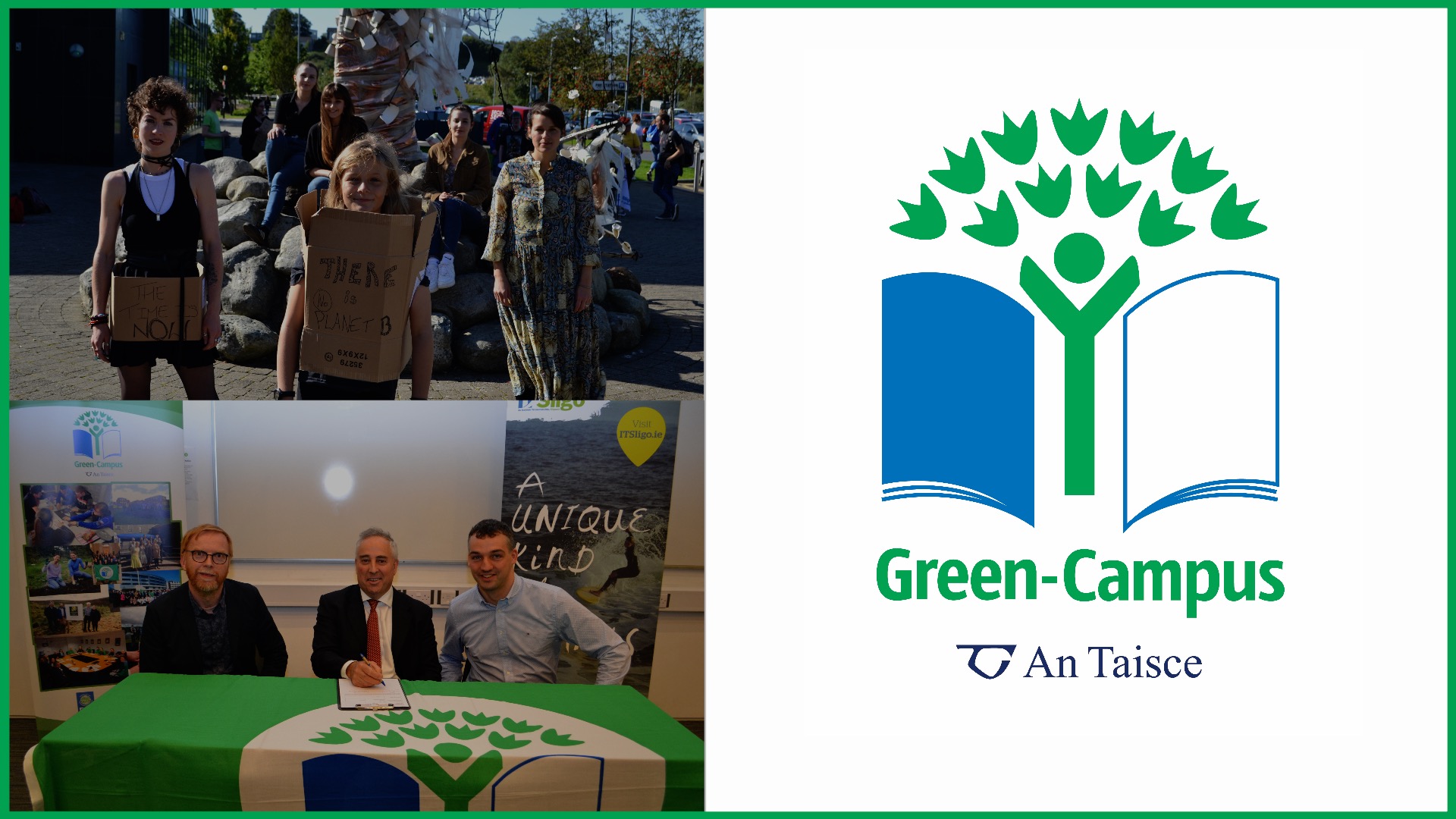 College provides Ireland's longest running Environmental Science degree course
The Institute of Technology in Sligo has for decades been in the front line in relation to promoting environmental awareness among the student body. It was the first third level institute in the country to develop an Environmental Science Department in 1982, leading to the creation of the first Environmental Science degree course in the process. The first graduates qualified in 1984, and, since then, students have come through the IT Sligo system with valuable and relevant expertise in environmental sciences in each of the past 35 years.
And now, in the face of increasing environmental concerns, IT Sligo is undergoing further ongoing changes in its environmental performance, aiming to become a more sustainable campus. Through the Green Campus initiative, IT Sligo aims to make improvements across the board from student and staff behaviours to infrastructure and policy.
We asked Fiona Britton, Sustainability Officer at IT Sligo to tell us more.
1. What's involved in becoming a Green Campus?
Green Campus is an environmental initiative that rewards continuous environmental improvement in third level educational institutes like IT Sligo. The programme award – the Green Flag – rewards environmental commitment and action that is properly embedded throughout campus life including our policies, infrastructure, behavioural culture, and of course our teaching and research programmes. This would mean IT Sligo becomes a more sustainable campus with a lower impact on the environment.
2. What steps are IT Sligo taking to achieve this status and how long will it take?
Green Campus is a 7 Step Programme which must be carried out over a minimum of 18 months. IT Sligo registered for the programme in Spring 2019 and plan to apply for our first flag by winter 2020/21. The programme is based on a themed approach, and for this first phase we have selected two themes 1) Waste & Litter and 2) Energy. We will take on further themes in the future, while still undergoing regular reassessment on our first commitment areas, so Green Campus is very much a continuous and evolving journey. The end results for IT Sligo and its students and staff is less waste to landfill, more recycling and overall lower energy use on campus.
3. It needs to be student led, so what are the commitments you need from the student body to succeed?
Yes, students are the driving force behind Green Campus. They comprise the majority of our Green Campus Committee where they coordinate and lead environmental change on campus. We also have great backing from our Students Union and our Environmental Society, who are strong advocates for Green Campus. In addition to our Committee members, students can also get involved with Green Campus as part of their course work and projects. The current and future generation of students expect a higher degree of environmental management and a society that is more sustainable. We can see this with the recent 'Friday's For Future' environmental protests across Ireland and around the world. IT Sligo has to meet this challenge and students are the central point of informing the college about what changes should be made.
4. Any student project you want to mention by way of showing environmental awareness among the student body generally?
We have proposals coming in all the time from lecturers and students looking to engage with Green Campus as part of their course work. For example, Fine Art students recently created an art display at the Salmon of Knowledge sculpture on campus using common waste materials to raise awareness for Global Climate Strike and Green Campus.
There are other really interesting student projects underway already this year in IT Sligo including:
a. A Habit Tracker App - A 4th year student is designing an App to record data and encourage behavioural change around waste and energy use on campus
b. An Environmental Science student is investigating the lifecycle impact of various packaging choices to help us make more informed decisions; and
c. 'Green Your Life' Event - coordinated by Tourism & Event Management Students to showcase simple steps everyone can take to reduce their environmental impact (10am-3pm Wed 13th November, on campus)
d. First year Environmental Science students start their academic career by assessing the environmental performance of the campus and identifying solutions that they see. A lot of our students have come from Green Schools so they bring a lot of these experiences with them.
5. In the short term what steps are realistically possible in terms of changing behaviour at IT Sligo that is favourable to the environment?
Globally, there is a real appetite for change right now and this is palpable on campus at IT Sligo too. In the short term, I think it would be great we could harness this momentum and tackle some of the more visible issues on campus such as single use plastics and disposable cups. Small changes add up quickly when we respond collectively as a community and can pave the way for deeper, more systemic change in the future.
6. What are the longer term goals for both the student and staff body?
IT Sligo has very strong credentials when it comes to the environment and sustainability. Already on the map for having the first Environmental Science department in any third level institute or university in the country, the campus also has access to leading sustainability skills and expertise through our Contract Research Unit. We also have a proactive Estates Department who are currently installing lighting upgrades across the campus. So, the platform is very much there for IT Sligo to show real leadership in this area, advancing sustainability not only on campus but in the northwest region and beyond.
7. Any further observations or final thoughts?
For IT Sligo, the Green Campus program provides a framework to help us collaborate and communicate more effectively on all our sustainability initiatives. Through student engagement in Green Campus we hope to create more informed and responsible graduates across all disciplines, who understand sustainability challenges in context of their roles as consumers, innovators, and leaders of tomorrow.
The development of this programme at IT Sligo indicates that the college, its staff and students recognise we need to change. We need to use less carbon, better manage our environment and hand on a clean, pollution free world to future generations. As Greta Thunberg clearly put it to the UN, 'The world is waking up. And change is coming, whether you like it or not'.