Green Aware Sligo Review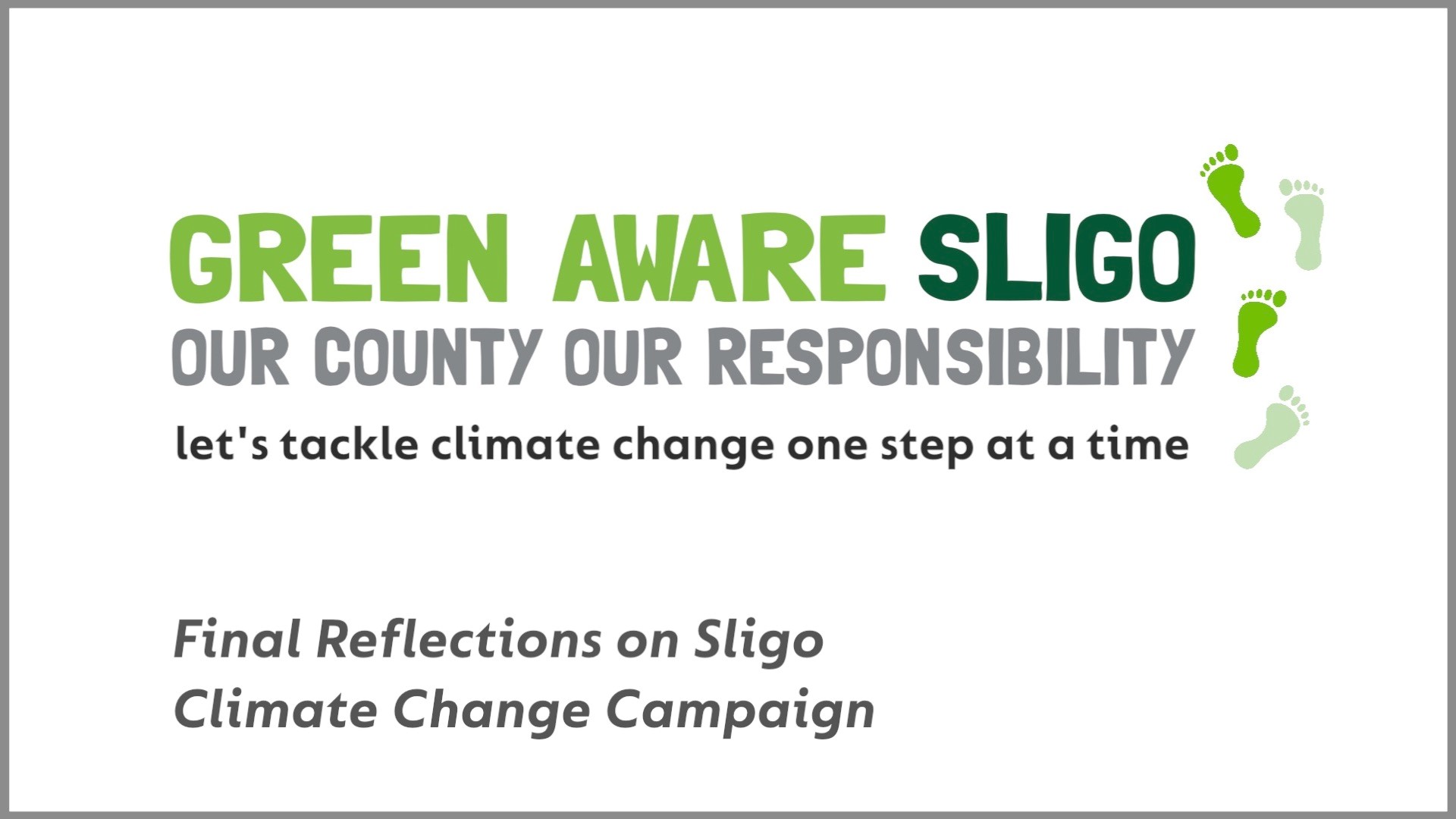 Reflections on the campaign and where we go from here
Green Aware Sligo – Where Do We Go From Here?
As we come to the end of the pilot phase 2019 Green Aware Sligo campaign on Climate Change, a behavioural change initiative, I would like to conclude the campaign by summarising what the Environment Section of Sligo County Council has delivered over the past 6 weeks and to outline the importance of continuing to highlight environmental awareness in our efforts to reduce climate change.
Following the adoption of the Sligo County Council Climate Adaptation Strategy, Ciarán Hayes, Chief Executive launched this year's social media campaign outlining what we face nationally and globally as the topic of Climate Change continues to rise high on the political agenda.
The topics covered in the weeks to follow this launch, included information and tips on Home improvements and Energy Efficiency, Smarter Travel options, Business & Plastic Pollution, Community Climate Activism and Biodiversity and our concluding week was focused on Students, a generation that will be most affected by the effects of Climate Change.
Throughout the campaign, radio interviews were held on the topic of the week every Monday morning on the Niall Delaney, Ocean FM radio show, the Sligo Champion featured a press release every Tuesday and various content from videos, publications, competitions and testimonials of those demonstrating good environmental practice was featured on our social media platforms.
During the campaign, staff of Sligo County Council were provided with 'Keep Cups' in an effort to reduce the need to purchase single use cups. We have also committed to abolishing all single use plastics in Council buildings before the end of 2019.
The new GLAN initiative was also launched. This is a community focused initiative led by An Taisce and its main objective is to enable communities to liaise with local businesses to help and suggest environmentally friendly changes they can incorporate into their daily business operations to become more sustainable in the fight against waste.
As temperatures, carbon pollution and climate destruction continue to rise, Green Aware Sligo will strive to create awareness and education to the people of Sligo in an effort to create a turning point. This is 'our county, our responsibility' and if we are to make this turning point, each and every individual needs to do their part to live in a more environmentally sustainable way.
Throughout the campaign it was evident that while there is enormous interest in the environmental challenges we face, several issues arose that need to be tackled.
The first of these is certain lack of awareness among some members of the community regarding initiatives that can be undertaken to improve your environmental performance. We hope that all of the information we have presented during the campaign goes some way towards moving this cohort of people in the right direction.
Secondly, there appears to be a lack of communication between groups, organizations and individuals – all of whom have a deep interest in and commitment to environmental issues. We would urge environmental groups to pool resources and communicate better with each other. There were several examples we encountered where the same or similar work was being carried out by different groups. Had they worked in cooperation, not only would they have been able to tackle that work more efficiently, with more volunteers to call on, but they would also have made savings by pooling financial resources, thereby providing additional funding for other projects.
Another aspect which relates to the last point is that when groups work together, as well as making things more efficient and saving in the longer term, you also add greater promotional value to your campaigns. More social media hits through highlighting what two groups are doing together rather than one will also mean that awareness is raised more widely, and this adds greatly to the value of the work and to the impact you will have when recruiting new personnel for your cause.
It also was evident throughout the campaign that there is great interest locally in giving back. Many people contacted us saying that they would like to work with an environmental group but didn't know where to begin, or what group might suit their skills or interests. There is also the issue of time-commitment. Most people want to give something back but are restricted by commitments they may have in their personal lives elsewhere. Environmental groups need to find ways of explaining this message to the public in order to recruit new members.
Finally, the shining light of this campaign was the evidence that schools and teachers are well ahead of most of us when it comes to raising environmental awareness and putting practical changes in place. We had so many examples of school groups who are both passionate and knowledgeable, committed and willing to share this information with others. The topics your children are working on at school relating to the environment are – most likely – directly applicable to your life at home too. So listen and discuss what is going on. That expertise can filter down to the most mundane of tasks in the home – how to recycle your waste, cut down on car journeys, stop burning coal, stop food waste. These simple steps, and much more besides, can all help to lower the carbon footprint of your household and will have the added benefit of saving you money. So it's all about making simple changes that just require some thought and planning – if we all work together on this we can make a substantive difference to this planet's future. As the Green Aware Sligo campaign tag line says: Let's tackle climate change one step at a time.
We would like to thank everyone who worked in co-operation with us throughout this campaign, and we look forward to continuing this work with all of you in the weeks, months and years ahead. There may be slightly less visibility in terms of an awareness campaign, but the environment will be part of everything we do at Sligo County Council, and we need all of you to support these endeavours.
If you have missed any part of this year's campaign, please visit www.sligococo.ie/greenaware or if you have any comments/suggestions that you'd like to share with us, please email climate@sligococo.ie.
Thank you.
Siobhán Gillen
A/Administrative Officer – Water & Environmental Services