Blog 7 - Sligo's Environmental Community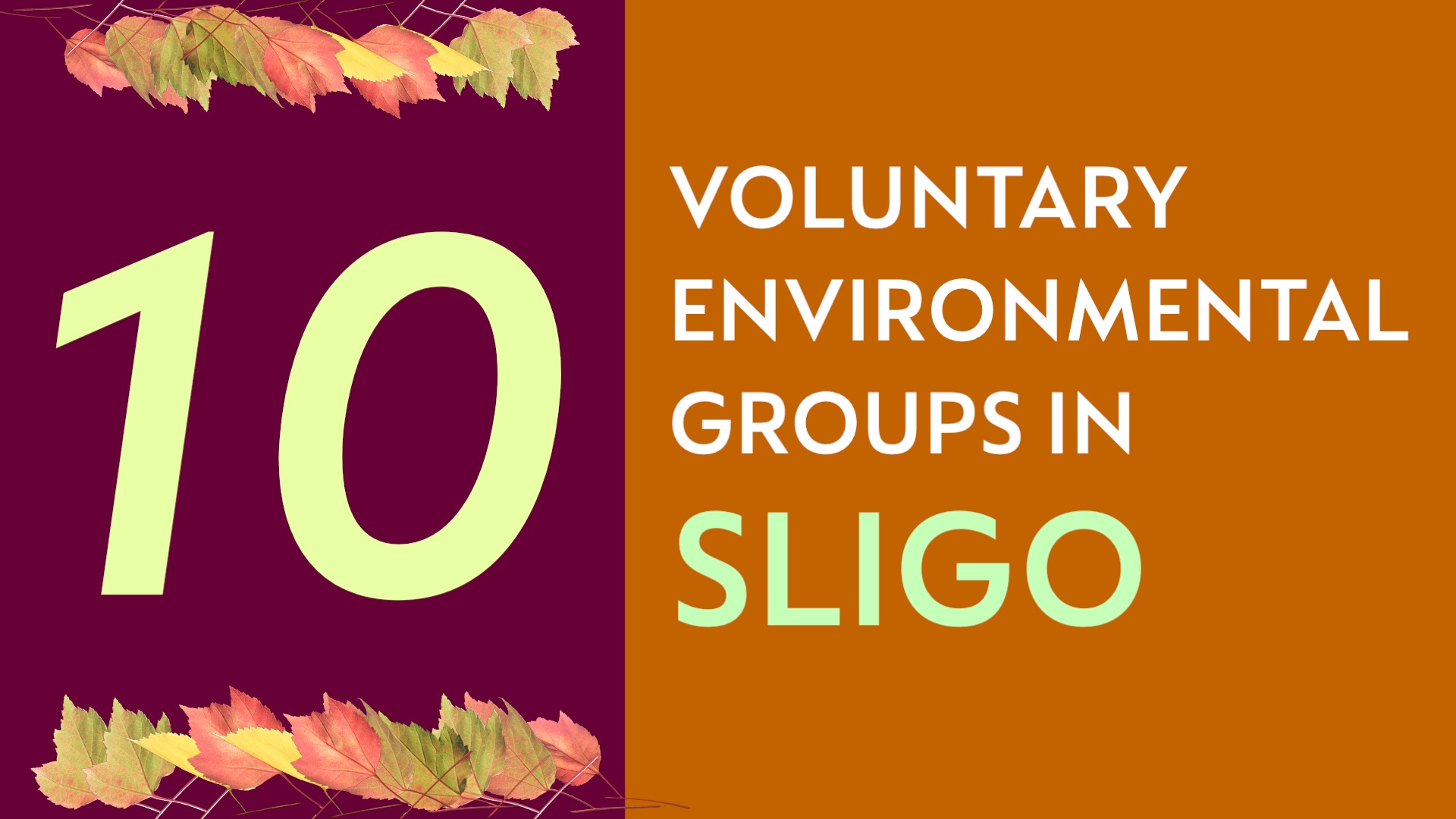 Get involved with your local environmental group, located right here in Sligo
There are many different community groups and organizations working on diverse environmental issues across the length and breadth of Sligo. This week, Green Aware Sligo brings you the background of just some of them. We've chosen large and small organizations, to give you an idea of the scale and range of these groups.
Consider getting involved in one of these, or visit the website for more details. It's also worth noting that there is currently some funding available to community initiatives in this area. If you are involved in a community group which raises awareness about an environmental issue, or want to find out about funding, please get in touch with us at climate@sligococo.ie or find us at www.sligococo.ie/greenaware.
Sligo Environmental Network
Active across social media, this group is made up of concerned individuals who understand that there's power in numbers, and that if a community speaks with one voice, they'll be more likely to be heard. Raising awareness about national and international climate change issues as often as local ones, it's worth finding them on Facebook to see the amount and variety of content, underlining the scale of environmental concerns that impact us all. Existing groups and individuals are welcome to join up.
Clean Coasts
Part of An Taisce, Clean Coasts work with communities to protect, maintain and care for coastal areas and waterways, and therefore have a growing presence in Sligo. Beach clean ups are organized in conjunction with other voluntary bodies as well as with businesses looking to build on their corporate social responsibilities. Also raising environmental awareness by carrying out marine litter surveys, raising awareness about plastic microbeads entering the oceans, and more. Visit www.cleancoasts.org.
Aid The Ocean
Another maritime group, based in Sligo, Aid the Ocean have been involved in cleaning up common dumping areas close to rivers, lakes and seas. It's incredible the amount of rubbish they can find close to our waterways, unfortunately places close to Sligo Docks being one place where illegal dumping takes place. They use local knowledge to find these black spots and quietly go about their business. They could do with your support, and you'll find them on Facebook.
Tidy Towns
Probably the highest profile organization and certainly one of the most active, Tidy Towns have set up groups all around the county, in places like Tubbercurry, Ballymote, Grange, Coolooney, Enniscrone, Rosses Point, Drumcliffe, Rathcormac, Carney as well as in Sligo itself. Responsible for everything from collection of litter to street enhancements, Tidy Towns have been at the centre of local volunteering for the past 60 years or so. Info on www.tidytowns.ie
Sustainable Energy Communities
In the recent national Climate Action plan, the Sustainable Energy Authority of Ireland (SEAI) have been given the task of encouraging the formation of more sustainable energy communities. The SEAI will give support and guidance to communities for up to a three year period as they plan for their energy future. Details at www.seai.ie.
Sligo PPN
A network of community and voluntary groups located around the county. The Sligo Public Participation Network (PPN) is a body charged with assisting groups to come into being, then grow and develop. So if you want to start a group but are unsure about the direction you should take, register with www.sligoppn.com.

Sligo Volunteer Centre
An organization which links an individual to the right voluntary organization. Depending on your interests, the Sligo Volunteer Centre is the first port of call if you want to get involved with a group but don't know where to go to take the first step. They also provide groups and individuals with training. Volunteer Sligo

Birdwatch Ireland
Over 15,000 members nationwide, and a very active group here in Sligo, the protection of wild birds and their habitats is their central objective. As evidenced in their recent work with Sligo County Council on the survey of swift numbers in the county, their remit is broad, reflecting the many challenges faced by biodiversity. Details www.facebook.com/birdwatch.sligo
Irish Whale & Dolphin Group
A new enough branch of the Irish Whale and Dolphin group has been set up in Sligo, and they are actively seeking new members. So if you are interested in the conservation and protection of whales, dolphins and other sea creatures along our coast, look them up via www.iwdg.ie
Bat Conservation Ireland
As reported in the Sligo Champion, a newly formed group in Cloonacool in south Sligo recently organised a 'bat walk' and around 60 people turned up. So there's definite interest in this area, further evidence that local groups engaging with challenges facing biodiversity need just a few people to set things up, and then to galvanize the support of the local community to get things going. www.batconservationireland.org.

Next Week: IT Sligo Green Campus & Green Schools
From primary and secondary schools through to third level in Sligo, there is an enormous amount of work ongoing to raise both environmental awareness and standards within these educational bodies, and to spread the word outside, as witnessed in the recent Climate Strike. We plan to do a full week on schools and their green activities soon, so watch this space for news on that.