FREE Environmental Workshop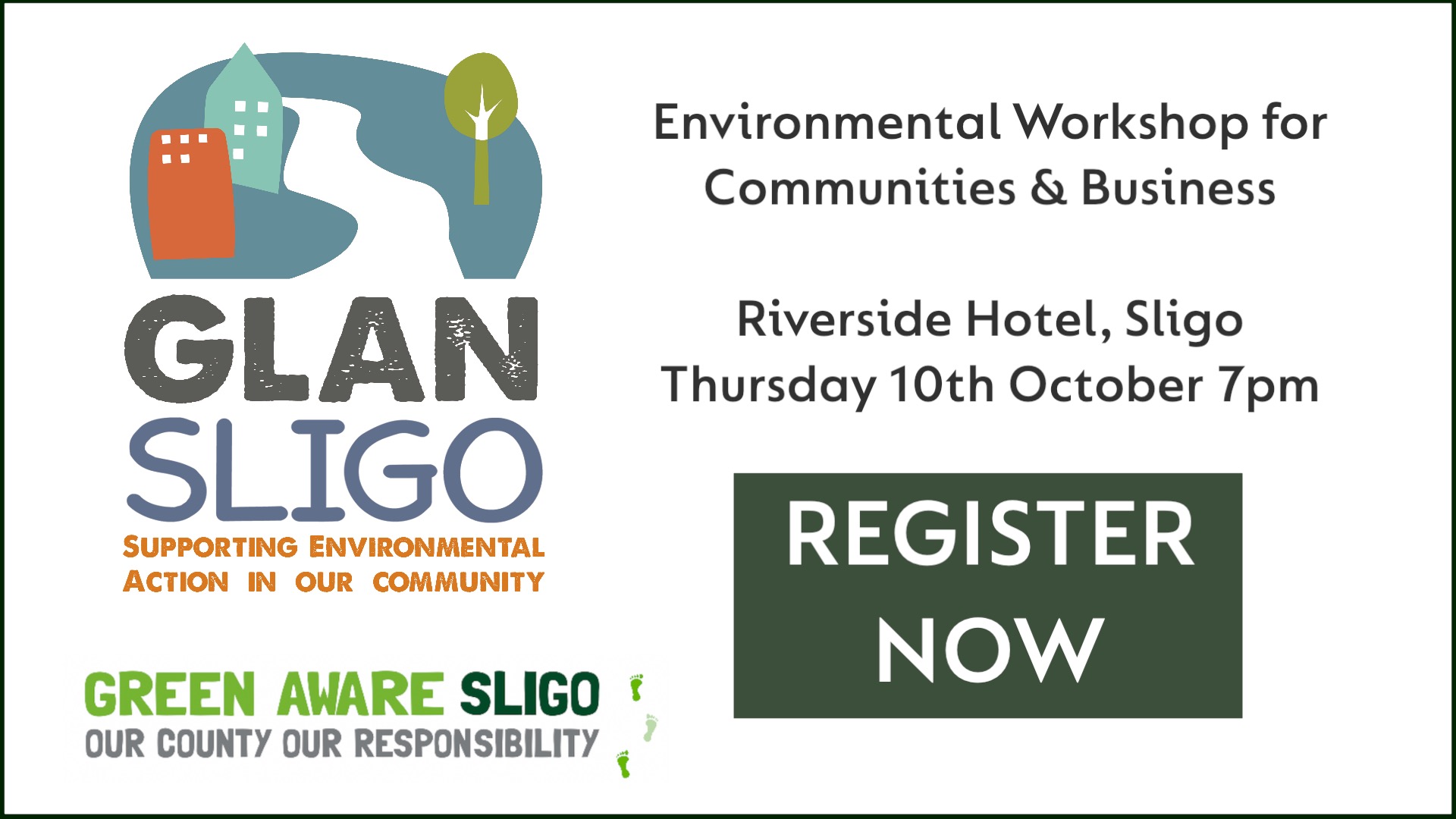 Find out how your community or business can improve your environmental performance with the GLAN workshop next month in Sligo
To find out more join us for a 'GLAN Information and Communications Workshop' on Thursday 10th Oct @ 7pm in the Riverside Hotel, Sligo town.
Do environmental issues such as the overuse of single-use plastics, clean public spaces and conserving resources concern you? Would you like to become part of movement dedicated to addressing such issues in Co. Sligo? If so, you might be interested in a new community initiative called GLAN, which is part of An Taisce's Clean Coasts and National Spring Clean programmes.
We are currently looking for communities in Co. Sligo to form GLAN hubs. The initiative will initially be piloted in Sligo town and rolled out countywide in early 2020.
GLAN is a community driven and its main objective is to enable communities to liaise with local businesses to help them make environmentally friendly changes to how they operate.
For a business to take part, they must take on a minimum of three environmentally friendly pledges, for example, changing from condiment sachets to reusable bottles, refilling water bottles for members of the public and adopting an area of town to focus on its upkeep. In return businesses will receive guidance towards achieving their objectives and a GLAN Sligo window sticker to alert the public to their involvement.
The initiative also offers support to communities through training, networking events, a dedicated GLAN officer who will be on hand to offer guidance and a GLAN.ie website.
"GLAN offers a unique opportunity for citizens and businesses in Co. Sligo to implement positive environmental change. The initiative aims to start a conversation between local communities and businesses on matters such as the overuse of resources. The goal then is to work together to find solutions to overcome such issues. I would like to take this opportunity to invite all members of the community to come along to our upcoming GLAN workshop in Sligo town on the 10th October."
Those interested in taking part in the initiative are invited to come along to a 'GLAN Information and Communications Workshop' on the Thursday 10th Oct @ 7pm in the Riverside Hotel. As places are limited please book in advance on Eventbrite.ie under the event name GLAN Sligo or contact Olivia Jones ojones@eeu.antaisce.org or call 087 2045259.
We also welcome businesses to come along on the night to find out more. For more information on GLAN please visit GLAN.ie
Notes
About Clean Coasts background
Clean Coasts engages communities in the protection of Ireland's beaches, seas and marine life. The programme is operated by the Environmental Education Unit of An Taisce and is currently funded by the Department of the Housing, Planning and Local Government, and Fáilte Ireland. The Clean Coasts volunteering effort engages communities in the protection and conservation of their local coastal environment. There are currently over 800 registered Clean Coasts groups in Ireland and last year over 22,000 volunteers engaged with the programme. There are a variety of group types such as community groups, residents' associations, tidy towns groups, sports clubs, schools, businesses, universities etc. Clean Coasts organises hundreds of beach clean-ups annually mobilising thousands of volunteers, removing considerable quantities of marine litter from Ireland's beaches and waterways.
About National Spring Clean
The National Spring Clean campaign Ireland is largest and longest running anti-litter campaign. It is organized by An Taisce with support from the Government of Ireland and sponsored by the Wrigley Company. It is also supported by Local Authorities who help co-ordinate clean-up activities for communities within their counties. They also provide for the disposal of all rubbish and waste materials collected. All those wishing to take part in the campaign should register on www.nationalspringclean.org