Masterplan Process 2013 – 2016
The Masterplan Process 2013-2016
2013 Stage 1: Social and Economic Appraisal
Census results analysis Consultation with community groups and agencies Assessment of disadvantage and need in the area
Stage 1 Report: Socio-Economic Profile
2013 Stage 2: Social, Economic and Physical Appraisal
Consultation with residents,community groups, agencies and businesses in the area, determining what is needed
Stage 2 Report: Physical Social and Economic Appraisal
2014 Stage 3: Ideas for Regeneration
Ideas on public display, with questionnaires to gather feedback. Feedback analysed and results published
Stage 3 Overview Report: Ideas for Masterplan Proposals and Actions
2015 Stage 4: Refining the Regeneration Masterplan
Building on Feedback from 2014 Focus on ideas raised as concerns by residents, deciding the best options for Cranmore and the East City area Questionnaires to gather feedback, results analysed and published
Stage 4 Overview Report:recommending key projects for final masterplan
2016 Stage 5: Approval of Final Regeneration Masterplan
The final Regeneration Masterplan is made up of a series of projects - physical,social and economic. Funding has been secured for a number of the projects
There are three key elements of the Regeneration Masterplan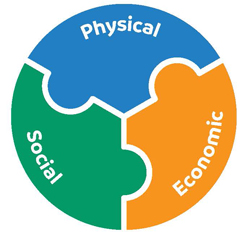 Regeneration Social Plan
Overarching goals of the social plan are to:
Enable resilience within the community so that local people are better able to manage and respond to issues in their local area.
Resource the community, so that local people can avail of emerging opportunities
Stimulate a flourishing within the community so that local people have the capabilities to lead the sort of lives that they value and enjoy
Addressing needs across the lifecycle:
The social plan is based on a life cycle approach,focusing on needs of people at various stages of life.
Seven social regeneration intervention areas: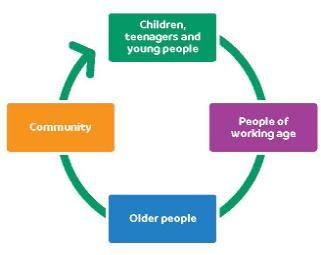 Education and learning
Employment and training
Health and wellbeing
Family support
Community safety and housing management
Income adequacy
Sport and recreation Underpinned by three strategies:
Arts and culture
Community development and youth work
Interagency collaboration and engagement
Regeneration Economic Plan
The economic plan is concerned with:
Developing the local economy: microenterprise,social enterprise and community enterprise
Changing perceptions of the area
Enhancing the employability of people in the area
Stimulating inward investment into the area
Engaging the private sector in providing employment opportunities
Stimulating corporate social responsibility measures
Developing social benefit opportunities within public procurement
Five economic regeneration intervention areas:
Private sector employment
Local enterprise development
Incentivising investment
Public procurement
Perception
Regeneration Physical Plan
The physical element of the Regeneration Masterplan is based on eight urban design objectives with a series of projects under each heading.
Funding has been secured for some of the projects.