Age Friendly Programme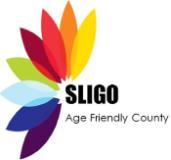 The Age Friendly Cities and Counties Programme is part of a World Health Organisation response and strategy to our ageing population. It recognises that we need a national programme that is rooted in a different type of thinking and acting if we are to adequately plan for the unprecedented demographic shift that Ireland is facing.
The Irish Age-Friendly Cities and Counties Programme aims to create communities where all of us as we age, enjoy a good quality of life and continue to participate fully in the life of those communities.
Age Friendly Programme
The Age Friendly Programme is build around the following key outcomes: An Age Friendly Ireland is a place where all of us, as we age, can:
Lead healthier and active lives for longer
Stay living in our own homes and communities
Get to where we want to go, when we want
Have the information we need to lead full lives
Feel and be safe at home and out and about
Be enabled by the build and social environment
Continue to learn, develop and work
Participate in social, economic and public life
Be truly valued and respected

The Age Friendly Programme is part of a worldwide, World Health Organisation inspired movement which aims to make sure that as we age, we can continue to:
Have a real say in what happens in our own lives and what happens in the areas in which we live,
Enjoy good health, access to high quality services, and a secure and enabling environment,
Be engaged and have opportunities to participate fully in everything that is going on in our cities and counties.
Sligo Age Friendly County
Sligo has nearly double the number of people over 65 as under 5 years of age (9,043 over 65 years of age / 4,594 under 5 years of age)
Sligo has 14% of the population>65 (Higher than the National average of 11.7%) which is the first time in history this trend has emerged
In 2014 Sligo County Council signed up to the national Age Friendly Cities and Counties Programme, an initiative aimed at making Ireland the best country in the world in which to grow old.
The first meeting of the Sligo Age Friendly Alliance was held in October 2014 and was attended by key decision makers from a host of organisations across the county including HSE, Sligo LEADER Partnership Co. Ltd, An Garda Síochána, Active Retirement Ireland, Sligo Sport and Recreation Partnership and Muintir na Tíre who have the opportunity to improve quality of life for people as they age. The Alliance is chaired and led by the Local Authority.
Age Friendly Alliance Members
The Alliance will oversee the entire development and implementation of the programme in the county. An Implementation Group will be set-up to organise a series of public consultations which will take place in 2015 the feedback from which will be incorporated into the Age Friendly Strategy and Action Plan for the county.
Sarah Wetherald, regional programme consultant for Age-Friendly Ireland, said that the support from organisations shown at the first alliance meeting was hugely positive and a great start in working together to make Sligo a great county in which to grow up and grow old.
Each Age Friendly City and County establishes a local Older People's Council. The Council is open to all older people. In Sligo this group will be established in 2015. The Council exists to represent the views of older people on the Alliance. It will also take responsibility for implementing many of the changes identified through the consultation process.
The key to the success of this initiative will be the direct involvement of older people and older people's groups across the county.
For more details on the Age Friendly Cities and Counties programme, visit the Age Friendly Ireland website http://agefriendlyireland.ie/
For Further information on the Sligo Age Friendly Programme e-mail agefriendlysligo@sligococo.ie or goto www.agefriendlyireland.ie