National Brown Bin Pilot Project
The Sligo County Council Waste Management Bye-Laws which were adopted in November 2013, brought a number of changes to Sligo City and County.
These Bye-Laws were made on foot of national and EU legislation i.e. the EU (Household Food Waste and Bio-Waste) Regulations 2013 and the EU Landfill Directive.
The Bye-Laws brought quite a lot of change to the way waste is managed in Sligo. It also brought a degree of confusion and uncertainty. Taking this into account, Sligo County Council in conjunction with Cre, the Department Environment and Novamont (a UK based company specialising in bio-plastics) have come together to create an awareness raising campaign for the people of Sligo in order to ensure maximum segregation of waste is carried out and understood to ensure waste disposal costs are kept to an absolute minimum for all households.
Cre and the Department of the Environment conducted a report in 2013 entitled "Review of Best International Practice on How to Educate Households on Using the Brown Bin Correctly". Funding applications were invited by the Department of the Environment for a County to carry out a Pilot Project putting this report into practice in order to identify best practice. Sligo County Council was successful in this funding application and has been selected to run the National Brown Bin Pilot Project for Sligo City.
What food waste can I recycle?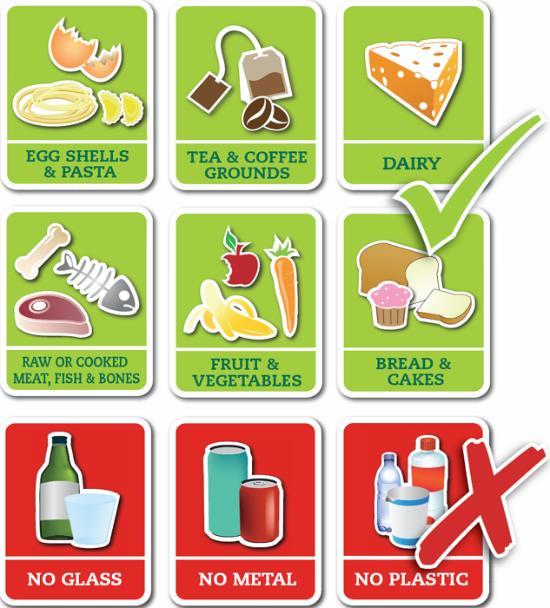 The Pilot Project involves implementing the following:
Employment of Interns as Waste Management Advisors to carry out 'Door-to-Door' awareness work on the correct use of the Brown Bin.
A Waste Presentation Survey, which involves a 6 week survey before and after the awareness campaign to determine the number of waste streams presented for kerbside collection.
A Waste Characterisation Survey, which involves characterising waste presented for collection to determine the level of contamination across all waste streams. This survey is also required before and after the awareness campaign.
Distribution of information leaflets and compostable bags.
Selecting areas in Sligo city for the delivery of 7L Solid Sided Kitchen Caddies, 7L Vented Sided Kitchen Caddies and an area for awareness work only. The rationale behind this is to determine which caddy works best here in Sligo and if it even helps at all. The provision of caddies are to assist households in the diversion of food waste from the general waste stream. They are easily stored in the kitchen area and require emptying every couple of days which reduce odour problems in the home. The provision of compostable bags will assist in the transport of food waste from the kitchen caddy indoors to the outside brown bin provided to households by their waste collector
Schools Education Programme.
For the purpose of the Project, Sligo City has been split into 3 areas: Area A, B and C as per map below.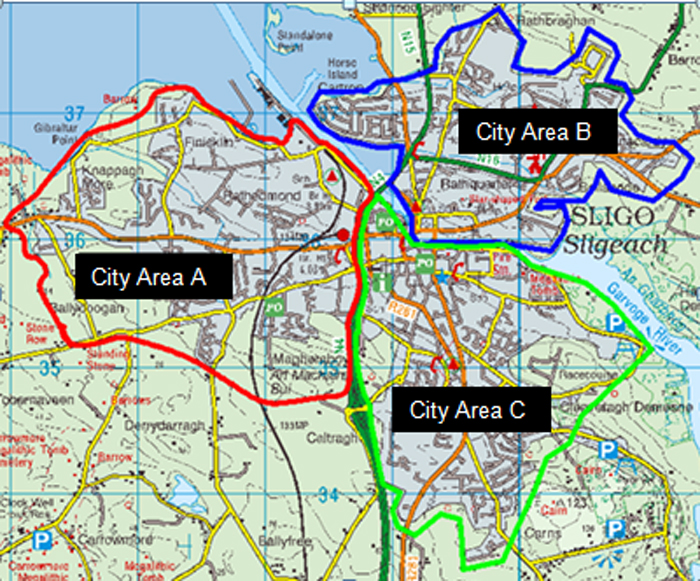 - Brown Bin Pilot Project Map of Areas A, B, and C
Area A households will be the first area of awareness work which is due to commence on Monday 21st July 2014. All Households in this area will receive 7L Solid Sided Kitchen Caddies, information leaflets and compostable liners ahead of the awareness campaign in order to give households some time to put them into use. Distribution to this area will take place from Tuesday 8th July 2014.
Area B households will be provided with awareness work and information leaflets only. There will be no provision of kitchen caddies or compostable liners to this area. If the provision of kitchen caddies helps to improve the diversion of food waste from the general waste stream, it is hoped to seek funding to distribute kitchen caddies to this area following the Pilot Project.
Area C households will be the second area of awareness work. It is anticipated to begin the awareness campaign on this area by September 2014 with the distribution of 7L Vented Sided Kitchen Caddies, information leaflets and compostable liners. Area C is the largest area to cover as it also takes in all of the City centre.
From Pilot Programmes like this carried out in Germany, Italy and the UK, the use of vented sided kitchen caddies has proven most popular and successful as it allows the waste type to breath, therefore reducing odour problems in the home. Going on these studies, it was decided to select the biggest area for the provision of vented caddies. The results at the end of the Pilot will show which caddy works better here in Sligo and if it even helps at all.
A Schools Education Programme is also being developed for implementation to all primary schools in the City area from September 2014. Following the Pilot Project, this Programme will be implemented to all schools in the County area and also given to An Taisce for implementation to all schools nationwide.
As this Pilot is the first of its kind here in Ireland, we are aiming to be the best in the country with the backing from the people of Sligo to help make that happen. The aim for Sligo County Council is to form a model of best practice whereby all other large towns and cities will be required to follow what works best here in Sligo.
The Project itself is aimed to provide awareness to all households in Sligo City on the correct use of the brown bin. However, the Local Authority will also be using this opportunity to highlight the following areas through its awareness campaign:
To ensure all households are fully educated on correct waste management practice across all waste streams
To highlight the benefits and reality behind why we need to reduce our dependence on the general waste stream which goes to Landfill
Waste Minimisation Tips
Maximum recycling and diversion of food waste from landfill to reduce waste disposal costs for the household
Garden composting: How to ensure a good compost, how to reduce odour and nuisance in the area.
The dangers both for health and the environment on disposal of waste by burning
To begin this highly beneficial initiative, a launch event will be held at 10am on Saturday 19th July 2014 at the Farmers Market, I.T. Sligo. This launch is called "Compost Give-Away, Bring Your Own Bag". Householders of Sligo are invited to come along to this informal event, ask some questions to representatives from the waste industry and Sligo Local Authorities and fill a bag or two of free compost to bring home to their gardens. This will also be a great opportunity to show the quality of compost which we can get from the Food Waste Bin which will help the people of Sligo to think twice about how they are disposing of waste in the home.
The Environment Section of Sligo County Council will be making every effort to ensure all households in Sligo City are fully educated to effectively reach our national targets. While doing so, this will assist in reducing waste disposal costs on the household as well as improving our environment and overall health.