Wild Roots Festival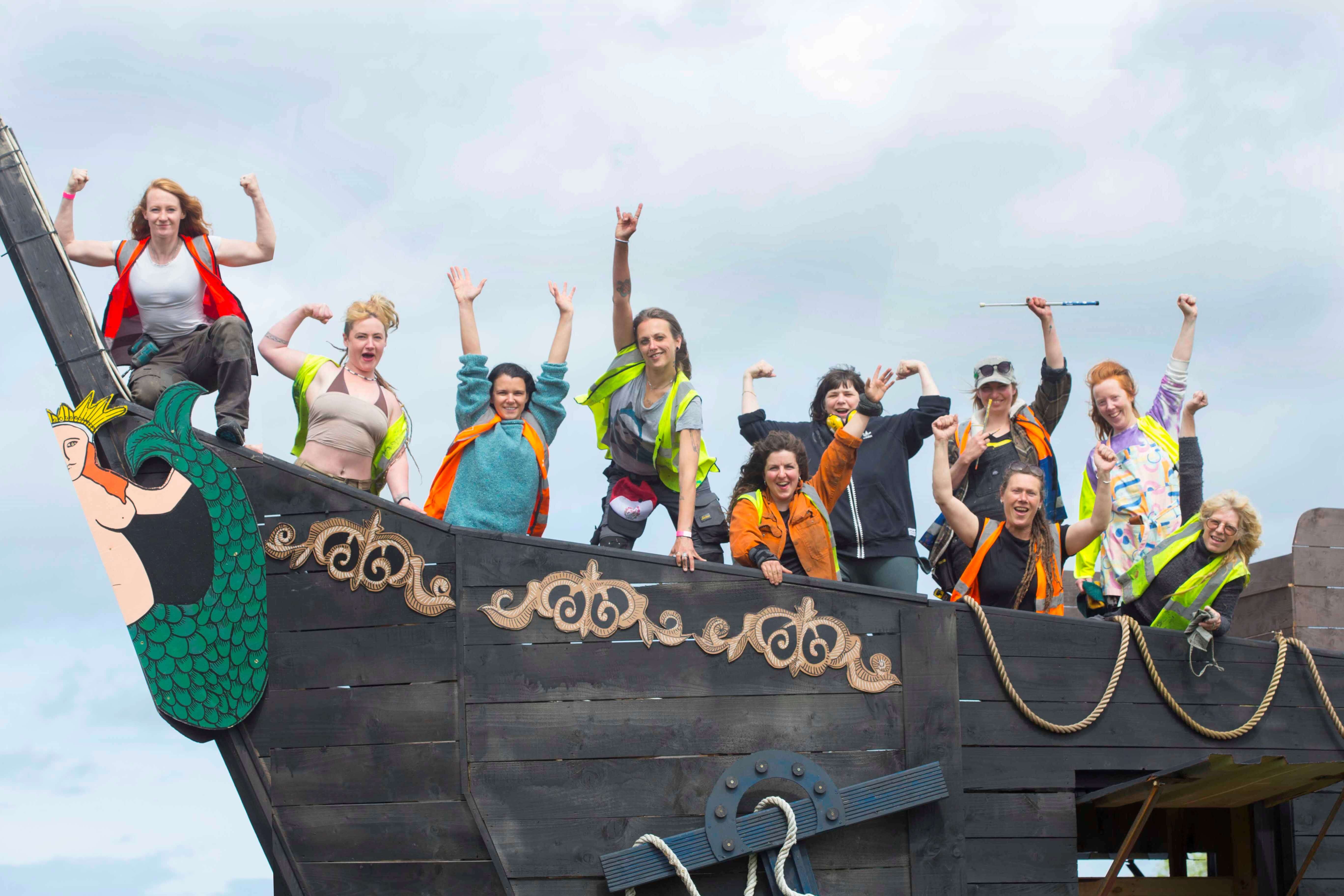 Members of The Wild Roots Festival build team putting the final touches on one of the festivals art installations ahead of the June Bank Holiday festival
Organisers prepare to welcome 12,000 people to one of the first camping festivals of the summer.
Ready To Go Wild
Stage times revealed for Wild Roots Festival
Over 12,000 people are preparing to travel to Sligo in less than two weeks time for the first Wild Roots Festival. The event which was postponed on a number of occasions throughout the pandemic has been granted its licence to take place on the June Bank Holiday Weekend (June 3-5). The festival, which includes performances from James Bay, Soda Blonde and Damien Dempsey, will be among the first summer camping music festivals to take place since the Covid-19 pandemic.
This morning, festival organisers took members of the local gardai, fire brigade services and local school children on a first look at the new festival site, which includes Ireland's largest ever immersive art installation "The Wild West Village" and a post-apocalyptic dance arena called "District 22". Speaking at the event, festival co-founder Orla Buckley remarked that they are looking forward to welcoming attendees to a totally unique festival experience:
"The covid-19 pandemic has allowed us the additional time to create a truly unique and inspiring festival experience. Thousands of hours have been spent creating the various stages and areas and there is literally something to do in every nook and cranny. We're delighted to welcome members of the Gardai and fire brigade services on site today, the safety of our guests is paramount and it's wonderful to have the local authorities involved with the process from the outset. We can't wait to welcome everyone on-site".
As well as announcing the festival times, organisers revealed a new festival app which is available now to download in the app store. The app will allow festival patrons to book activities, view stage times and pay for drinks and food using a contactless payment system.
For those traveling to Sligo by train or bus after you arrive make your way to the bus stop on Marckiviez road across from Thomas Connolly's bar where a (€2) shuttle bus will take you to the festival site. If arriving to Sligo by car, drive over Ash Lane at the front of ATU Sligo and then head out the R286 towards Hazelwood and the Wild Roots stewards will direct you to the main car park.
The Wild Roots Festival will take place from June 2nd-5th on the shores of Lough Gill Co. Sligo. The family-friendly event includes a range of outdoor activities including boat parties, rock climbing, aerial yoga and walks through The Hazel Wood made famous by W.B Yeats.
Final tickets on sale now: wildroots.ie
STAGE TIMES
THE MIGHTY OAK (Main Stage)
FRIDAY 3rd June
22:15 King Kong Company
19:45 Razorlight
17:45 Hermitage Green
15:45 Moxie
14:00 modernlove.
SATURDAY 4th June
22:15 James Morrison
19:45 Soda Blonde
17:45 Booka Shade
15:45 JyellowL
14:15 Róisín O
12:45 Dublin Ukulele Collective
SUNDAY 5th June
22:15 James Bay
19:45 The Sherlocks
17:45 Ryan McMullan
15:45 Paddy Casey
14:00 Big Society
12:45 Galway Street Club
THE WILD WEST STAGE
FRIDAY 3rd June
23:00 Scratch Perverts
21:45 The Blizzards
20:30 Cherym
19:15 Hazey Haze
18:00 Alexis Kings
15:45 Rebekah Fitch
15:30 Callum Wall
14:15 Gerald Ahern
13:00 Túsk
SATURDAY 4th June
00:30 Prymary Colours
23:30 HAM SANDWICH
21:30 Amy Montgomery
19:45 The Barley Mob
18:15 Bobbi Arlo
16:45 Toshín
15:15 The Flavours
13:45 The John Andrews Band
SUNDAY 5th June
23:00 Greg Wilson
21:45 Damien Dempsey
20:30 ROE
19:15 Dark Tropics
18:00 Evin
16:45 Laytha
15:30 Ben Cutler
14:15 Wired for Sound
13:00 The Bootleg Beach boys
DISTRICT 22 (DANCE STAGE)
FRIDAY 3rd June
00:00 Felix Da Housecat
22:30 RIchie Blacker
21:00 Daft Punk Tribute
20:00 DJ ROGER B
19:00 DJ Tommy Finan
SATURDAY 4th June
00:00 Jenny Greene
22:30 CAOIMHE
21:00 Moodtrax
20:00 Monaco
19:00 Back N Fourth
18:00 Select

SUNDAY 5th June
00:30 Mark Blair
23:00 Jon Hussey
22:00 DJ Odhran Mahon
21:00 Dee
21:00 Patrick McManus
20:00 Lavelle
19:00 Aaron Keaveney
18:00 Ailbhe Treanor