Swiss Ambassador visits County Hall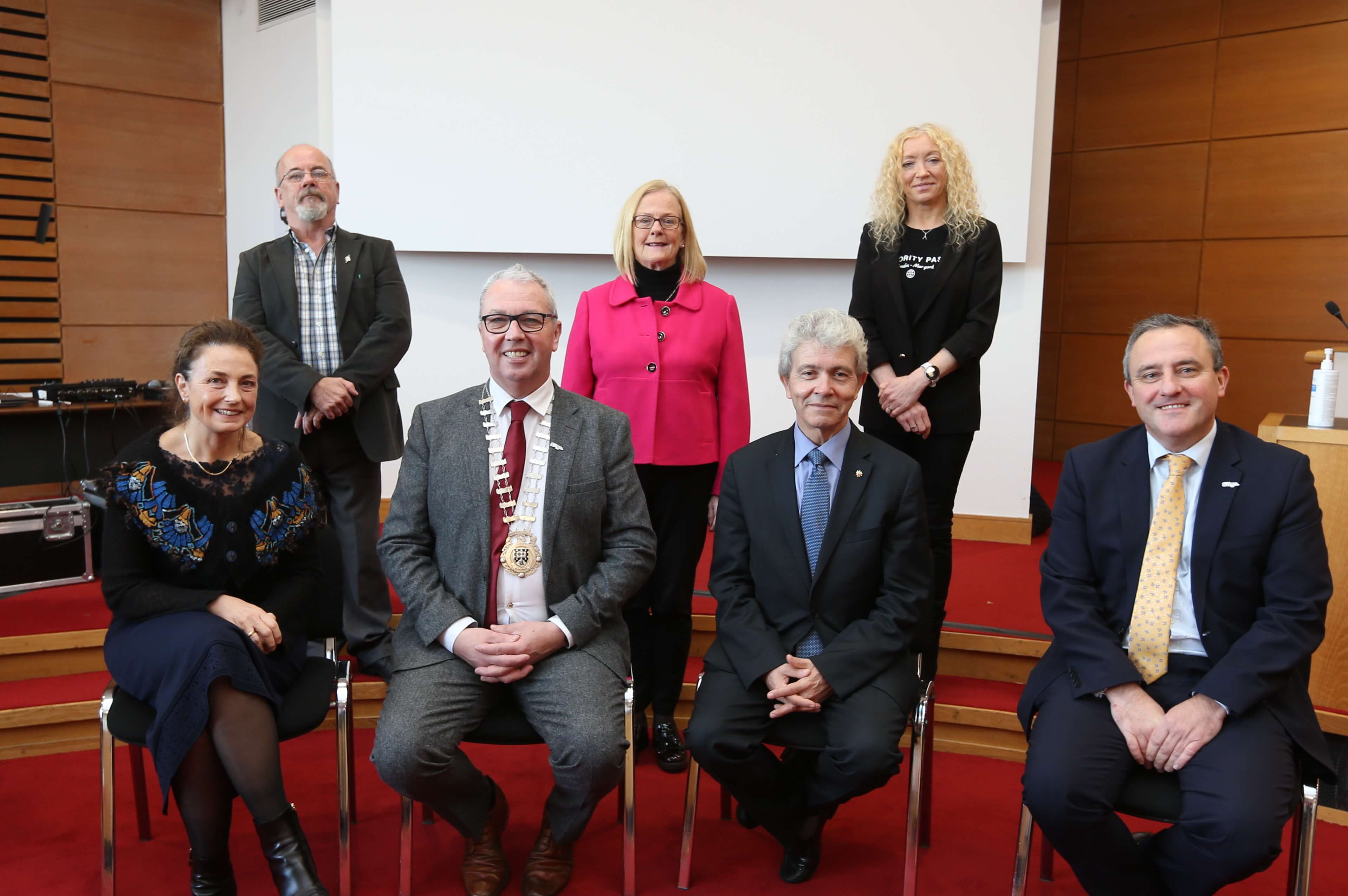 Attending the meeting with the Swiss Ambassador in County Hall
Front row: Elyse Touron (Ambassador's wife), Leas Cathaoirleach Cllr Dónal Gilroy, Ambassador Touron, Chief Executive Martin Lydon
Back row: Mayor Cllr Arthur Gibbons, Cllr Rosaleen O'Grady, Cllr Marie Casserly
The Swiss Ambassador to Ireland, His Excellency Louis José Touron visited the offices of Sligo Council on Tuesday.
The Ambassador was welcomed by Leas Cathaoirleach Dónal Gilroy and Chief Executive Martin Lydon.
Mary Harty, Business Development Manager, Sligo Chamber, made a presentation on the organisation's role and objectives – 'Life is Sligo', Director of Services Dorothy Clarke briefed the Ambassador on Sligo's tourism potential, and Head of Enterprise John Reilly outlined the supports available to new and emerging business.
Mayor Councillor Arthur Gibbons, Chair of Sligo-Drumcliffe Municipal District Councillor Marie Casserly and Chair of Sligo County Council's Twinning Committee Councillor Rosaleen O'Grady were in attendance. Dymphna Gorman, President Sligo Town Twinning and Imelda Harte STT were also in attendance, along with Liam Kiely of Sligo County Council's Local Enterprise Office.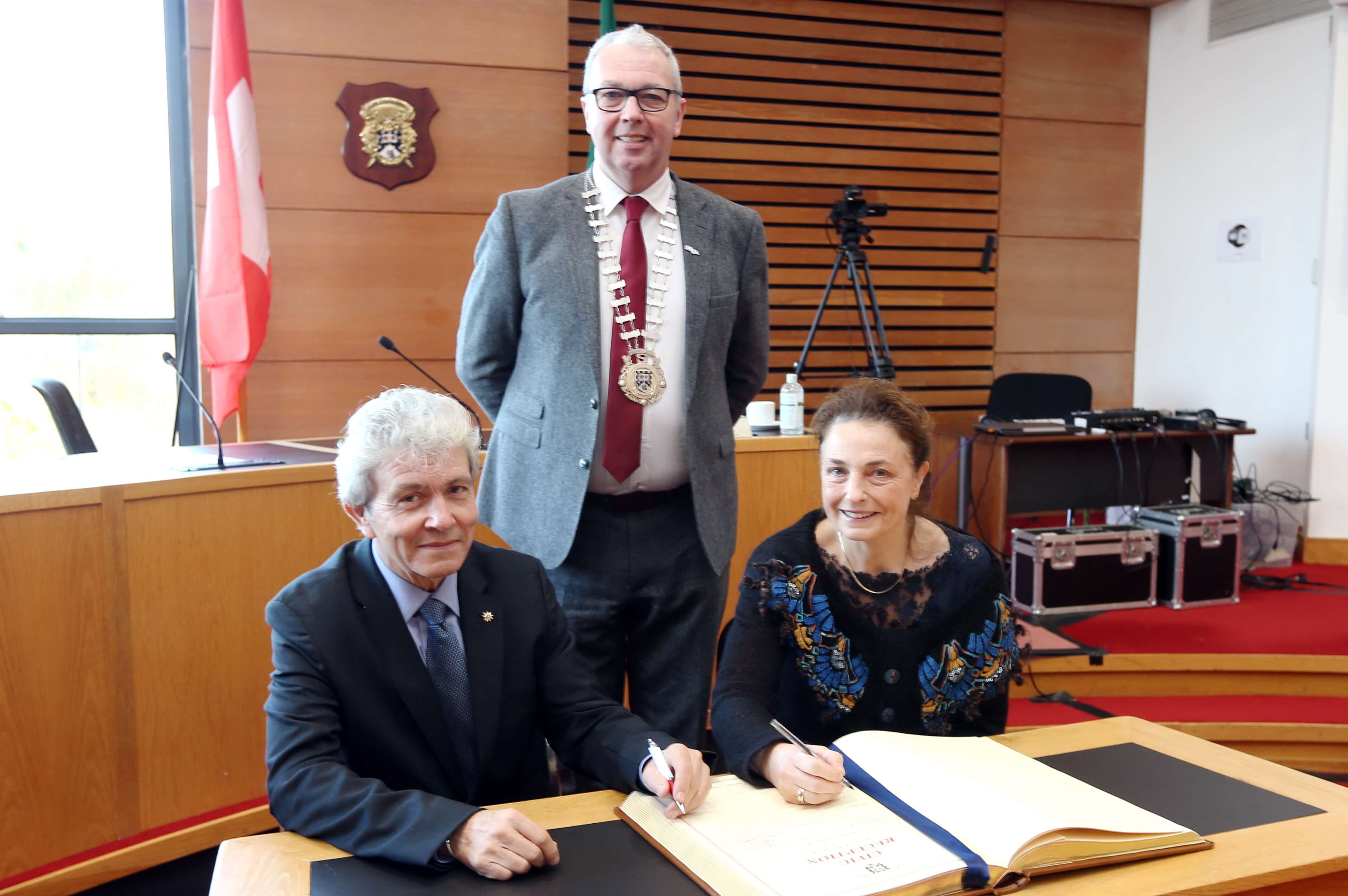 Swiss Ambassador Louis-José Touron and his wife Elyse sign the Distinguished Visitors Book accompanied by Leas Cathaoirleach Councillor Dónal Gilroy
Close relations
In his address, the Leas Cathaoirleach noted that it was the first occasion Sligo County Council has formally welcomed the Swiss Ambassador to our county. 'Over the years, Ireland and Switzerland have developed close relations across a broad spectrum of political, cultural and economic activity. The first historical record of this association can be dated to the 7th century - In the year 612 St. Gall was credited with the foundation of a monastery in the Swiss city of St. Gallen.
Shared views
Ireland established an Embassy in the capital city of Berne in 1940, and our diplomatic engagement is characterised by a general consensus in the area of foreign policy, deriving from our shared views on issues such as neutrality, disarmament, human rights issues and peace keeping. Ireland and Switzerland also enjoy a vibrant and economic and trading relationship. Switzerland is Ireland's 5th largest export market with bilateral trade of over 10 billion Euros.
Inward investment
Ireland has also been an attractive country for inward investment from Switzerland, particularly in the areas of pharmaceuticals and financial services. To take just one example, Zurich insurance has its European headquarters in Dublin, employing over 1,000 people. The Irish Community living and working in Switzerland continues to grow and is now estimated at 8,000.
Tourism
In terms of tourism, there has also been a noticeable increase in the number of Swiss people visiting Ireland with a record 88,000 visitors in the year before the Covid pandemic. It is our experience that Swiss people greatly enjoy our culture, music, literature and the beauty of the Irish countryside. The James Joyce Foundation based in Zurich (where Joyce is buried) also fosters a great interest in Joycean studies amongst Swiss people.
Engagement
This is just a brief snapshot of the many links that unite our two countries. I believe the association at national level can be replicated at local level. and I see the Ambassador's visit today as the catalyst for active engagement in terms of enterprise and tourism.'
The Leas Cathaoirleach concluded his address by confirming that Sligo County Council will play its part in progressing this special association.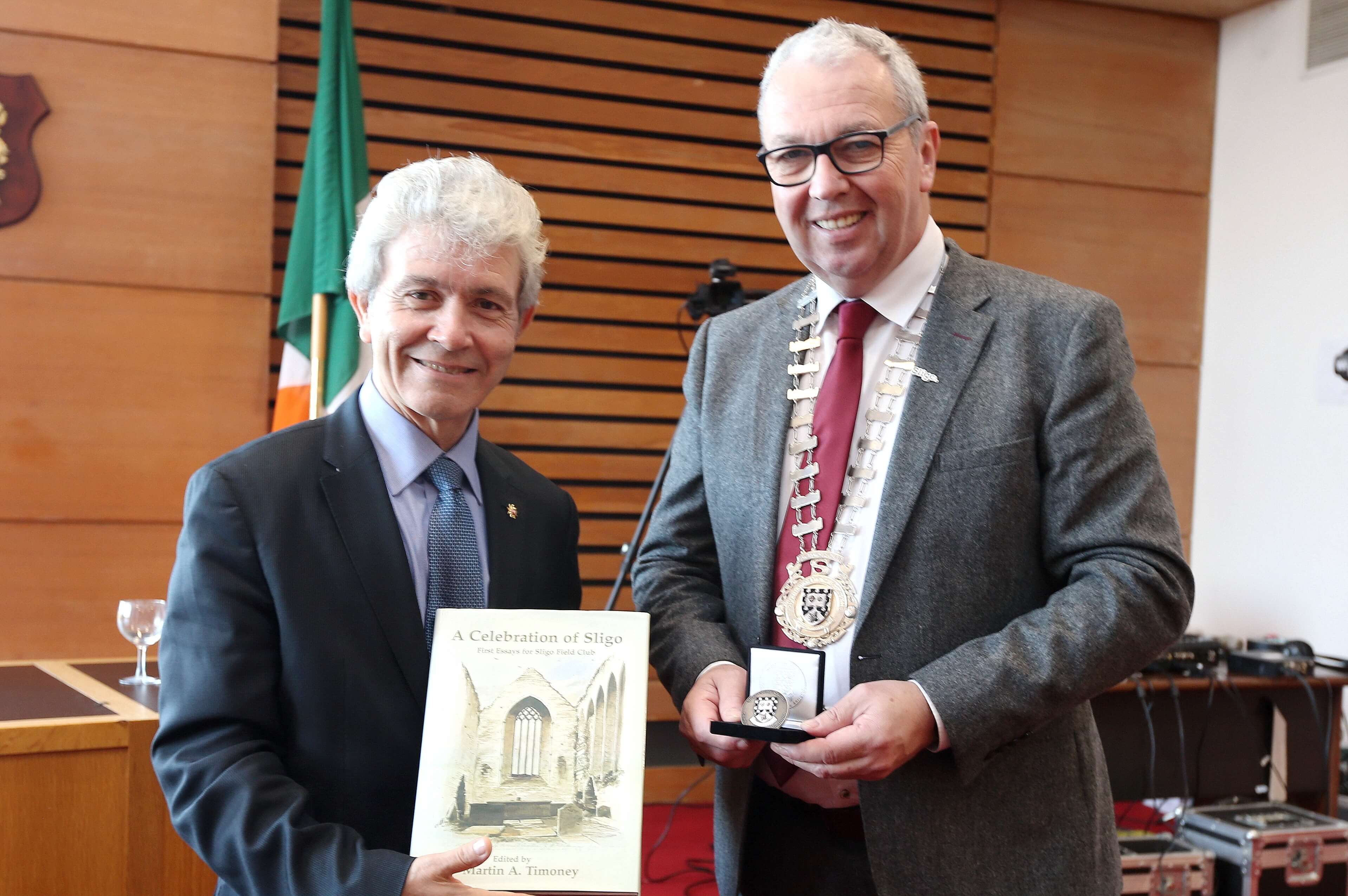 Leas Cathaoirleach Councillor Dónal Gilroy makes a presentation to Ambassador Touron