Public Realm Enhancement Scheme Strandhill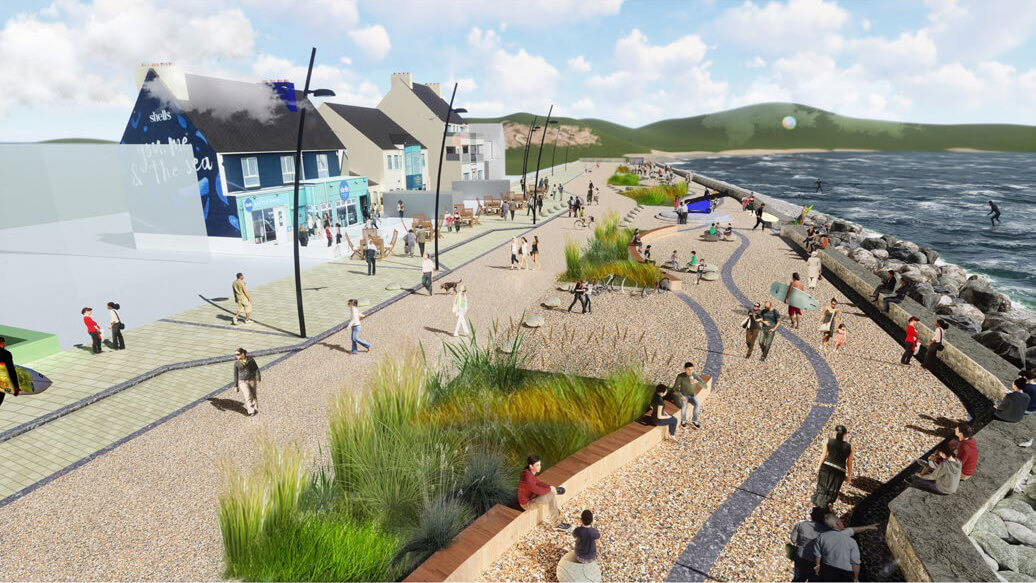 Proposed Public realm improvements to the Shore Front
Sligo County Council's Planning Section have launched a fourth public consultation with respect to public realm enhancement scheme for Strandhill.
In 2020, the Council secured RRDF funding to prepare the first stage of a new public realm scheme for the villages of Rosses Point and Strandhill. The aims of the Rural Regeneration and Development Fund (RRDF) include the rejuvenation of towns and villages, the enhancing of unique outdoor amenities, culture and heritage, the strengthening of rural economies and the provision of tourism infrastructure.
The overarching vision for Strandhill is to support its growth in a sustainable and safe manner into the future with the quality of life for residents as a main priority. Any enhancement scheme should also readdress the balance between pedestrian and vehicular activity to improve safety and the overall visitor experience and should enhance the tourism potential and capacity of the village. Further to our initial round of online consultation in August (online survey), and more detailed consultation in October and December, Sligo County Council can present its current thinking on how to address the issues raised in relation to the enhancing of Strandhill.
The online public consultation to date revealed that there was an appetite for a full pedestrianisation of the Shore Front and Shore Road subject to access all year round for those with designated disabled parking permits. However, maintaining access to such drivers at the same time as restricting access to the Shore Front either full time or on a seasonal basis is not easily achievable.
Based on the consultations to date, the Council is now presenting three options for the future of the Shore Front and Shore Road: (1) no intervention (2) full pedestrianisation of Shore Road and the Shore Front and (3) a compromise solution whereby limited parking is retained on the Shore Front for designated disabled permit holders and older persons (age friendly spaces). This option (option 3), retains year-long vehicular access down to the seafront and 20 designated disabled and age friendly car parking spaces while reimagining the remaining space as a true promenade with enhanced seating, landscaping, viewing shelters, opportunities for play and social interaction.
With reduced traffic on Shore Road, as a result of less car parking on the Shore Front, footpaths on Shore Road can be widened and the walk down to the sea front from the Council car park enhanced and made safer and more accessible for all. This option also sees the Council car park reconfigured to make up for spaces lost on the Shore Front. When compared to pre-Covid car parking numbers, this option sees a net increase in spaces in Strandhill.
The Council would encourage people to register on the portal and voice their opinion!
Log on to our consultation portal https://consult.sligococo.ie/en.
The closing date for submissions is 13th June 2022 at 17.30.
Strandhill - Public Realm Enhancement Project (PDF)
- 3,564 kbs