Cranmore Regeneration Project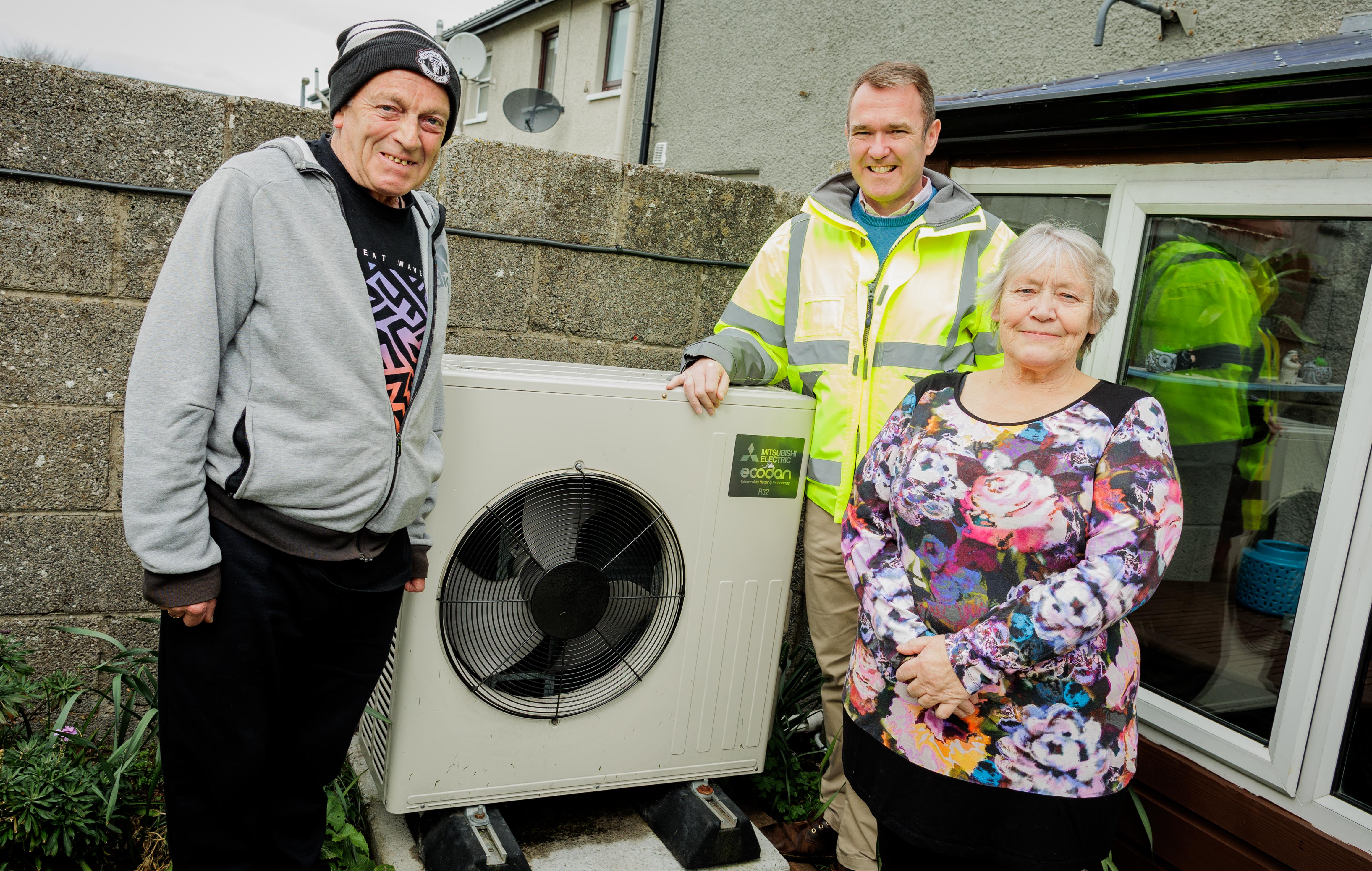 Householders Anthony Looby and Marian Byrne pictured with Míċeál McGinty, Senior Executive Architect on the Cranmore Regeneration Project for Sligo County Council
Sligo County Council's retrofitting scheme produces life-changing results for residents of 50-year-old estate.
Cranmore Regeneration Project turning 160 local authority homes into A-rated homes with heat pumps and energy upgrades to 190 private houses
€15m scheme is one of the largest local authority-led housing improvements project ever undertaken in North West
Sligo County Council and the Cranmore Regeneration Project are on track to complete by 2024 a €15million scheme to improve the energy efficiency of 350 houses on the Cranmore Estate in Sligo Town with 160 local authority houses set to achieve up to an A2 BER rating.
It is the first time a local authority in the North West has undertaken a retrofitting scheme of this size and scale and its success stands as an example on how to transform both housing stock and the quality of life of residents.
Properties on the Cranmore Estate were constructed almost 50 years ago and do not meet current energy efficiency standards, with residents having to burn large amounts of unsustainable solid fuels like coal and wood to stay warm and heat water.
The Council secured State funding under a Regeneration Scheme in 2016 and started consultations with residents in 2017 before beginning the project in January 2020.
The residents, who agreed to take part, were moved by Sligo County Council to alternative accommodation for the duration of the works, which included the installation of state-of-the-art air-to-water heat pumps, as well as the removal of chimneys to ensure airtightness and maximise heat retention.
Almost €12m will have been spent once the first two phases of the scheme are completed in 2023.
Commenting on the scheme and a public awareness campaign called 'Our Sligo Home', Míċeál McGinty, Senior Executive Architect on the Cranmore Regeneration Project for Sligo County Council, said:
"The driver of this scheme is the betterment of people's lives and to make their environment a healthier place to enjoy. This is a life-changing and exciting scheme for householders. People are definitely now enjoying living smarter, greener, and more sustainably. They have new levels of comfort, and an added bonus is they are no longer dragging bags of coal into their houses. The joy of cleaner living is also evident in the air. The idea of 'Our Sligo Home' is a place for all with sustainable housing and community-centred public buildings."
Some of the earliest-built properties needed the most work, as some of them were constructed decades ago.
Many Cranmore residents were previously spending significant sums on solid fuel to heat their homes, with one resident saying that the expense was running to as much as €400 per month.
Resident Marion Byrne, said:
"I used to pay about €75 a week for coal in winter. That could be €50 in the summer. I was paying about €20 a week for electricity. There would also be a €40 delivery of logs for the fire every month. On top of that, I was buying firelighters and kindling, and I was paying money to the bin company to remove the ashes. I can get by now on €40 a week for my electricity. And there's hot water 24/7."
Another Cranmore resident credits the regeneration scheme with improving his general health. Anthony Looby, said:
"Before, I had timber flooring all through the house. That was very cold. I am a lot healthier since this work was done and the new heating system was installed. I used to have colds and flus the whole time. Now there's no draft, it's not cold at night and it's warm when you get up in the morning. There's a big difference. How could I have any regrets?"
The scheme is part of Sligo County Council's wider plan to develop Sligo as a 'world-class place to live; invest and visit with better homes and enhanced public spaces and buildings.
Sligo County Council Cathaoirleach Councillor Paul Taylor said:
"The Retro-fitting scheme is the latest in a series of excellent initiatives delivered under the umbrella of Sligo County Council's regeneration programme, initiatives which were planned and delivered in conjunction with the community. I would like to commend the Lead Consultant - Rhatigan Architects, and the main Contractors, Kilcawley Construction - for their professionalism and expertise, which have been invaluable over the course of the project. This exemplary spirit of partnership between various agencies and the local community has delivered so much in a wide range of areas."
Commenting Sligo County Council Chief Executive Martin Lydon said:
"Climate change is the challenge of our generation, and I am delighted to see that this important retrofitting project is already having such a powerful impact in the lives of our residents. The investment by Sligo County Council in retrofitting our housing stock and other significant investments in roads, rural towns and villages and greenway proposals, will help build a sustainable future for this county. 'Our Sligo Home' is a reminder that Sligo is a place where every resident can have pride in their own homes and the development of public spaces that surround us."
For more information, please contact StoryLab, 071 930 0972 or Cranmore Regeneration Project, 071 911 1250.