Sligo is buzzing! New Partnership for Pollinators in Sligo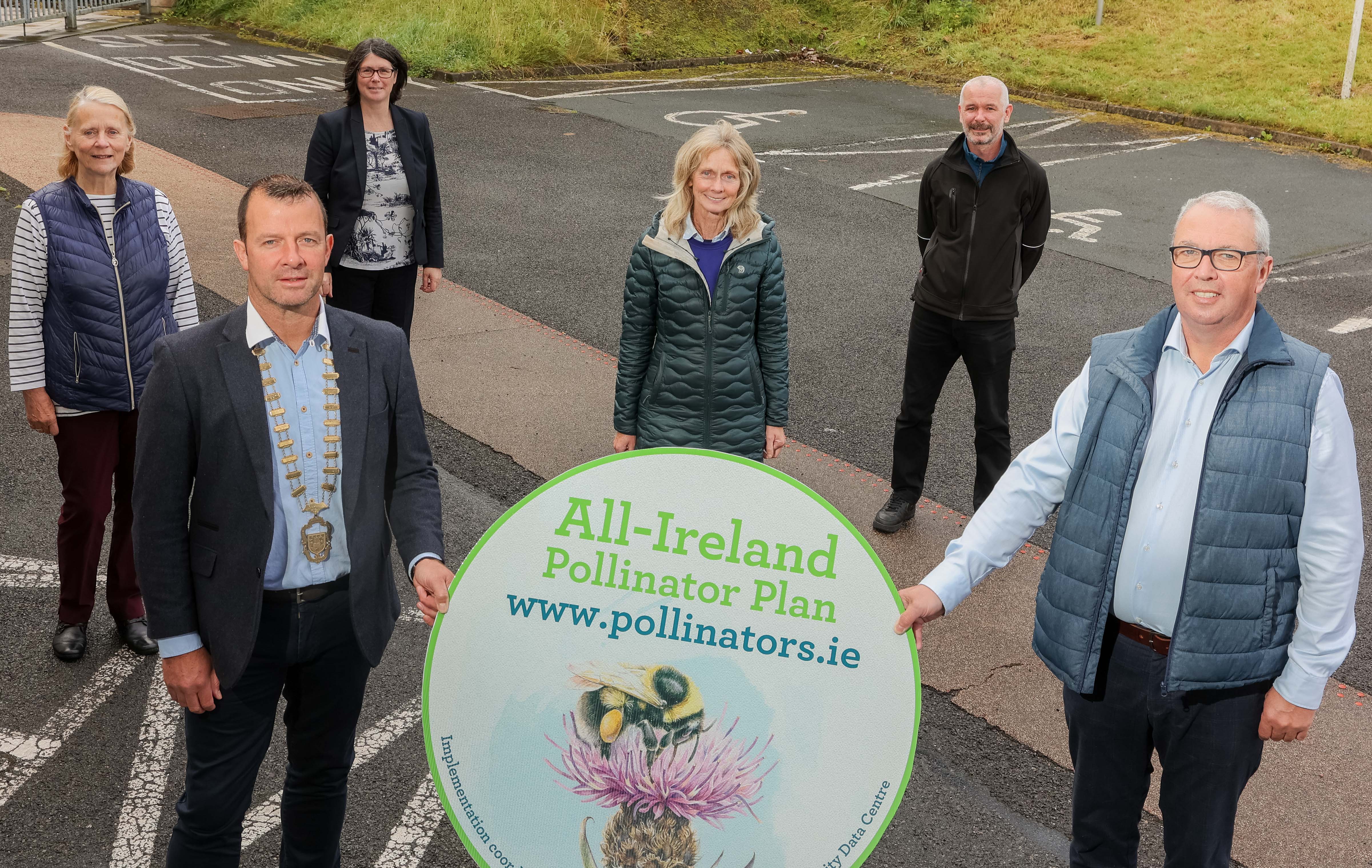 At County Hall, Sligo to mark the partnership between Sligo County Council and the All Ireland Pollinator Plan were (L to R): Wendy Lyons, Vice Chair, Sligo Heritage Forum; Councillor Paul Taylor, Cathaoirleach, Sligo County Council; Siobhán Ryan, Heritage Officer, Sligo County Council; Lucy Brennan, Parks Manager, Sligo County Council; Pete Murtagh, Climate Action Officer, Sligo County Council and Councillor Dónal Gilroy, Chair of Sligo Heritage Forum.
Photo: James Connolly - Picsell8
Sligo County Council has become the latest Council to sign up as a partner in the All-Ireland Pollinator Plan (AIPP).
The Plan is a cross-sector initiative, led by the National Biodiversity Data Centre, with local authorities, farmers, businesses, schools and local communities, to support pollinators including our 100 bee species, one-third of which are threatened with extinction. Partner organisations are those that have committed to delivering some of the 186 actions in the All-Ireland Pollinator Plan 2021-2025.
Welcoming the partnership, Councillor Paul Taylor, Cathaoirleach of Sligo County Council said
"I am delighted to welcome the new partnership between Sligo County Council and the All-Ireland Pollinator Plan. We will work to support the All-Ireland Pollinator Plan through our work with communities and local authority projects and I look forward to seeing the positive results of this partnership"
Councillor Dónal Gilroy, Chair of Sligo Heritage Forum said
"We know that Ireland's pollinating insects are under threat, with one-third of our 100 wild bee species at risk of extinction. Sligo County Council will work to address this in partnership with the National Biodiversity Data Centre, undertaking actions to provide food, shelter and safety for our wild bees and making public land more pollinator friendly. We know that the biodiversity crisis and climate change in Ireland are closely linked, and this new partnership will compliment current actions for Climate Change across County Sligo".
The Council, its partners and local communities are already taking action for pollinators in County Sligo. The All-Ireland Pollinator Plan provides a framework for all in Sligo to work together to take positive action for pollinators which we can monitor in the long term.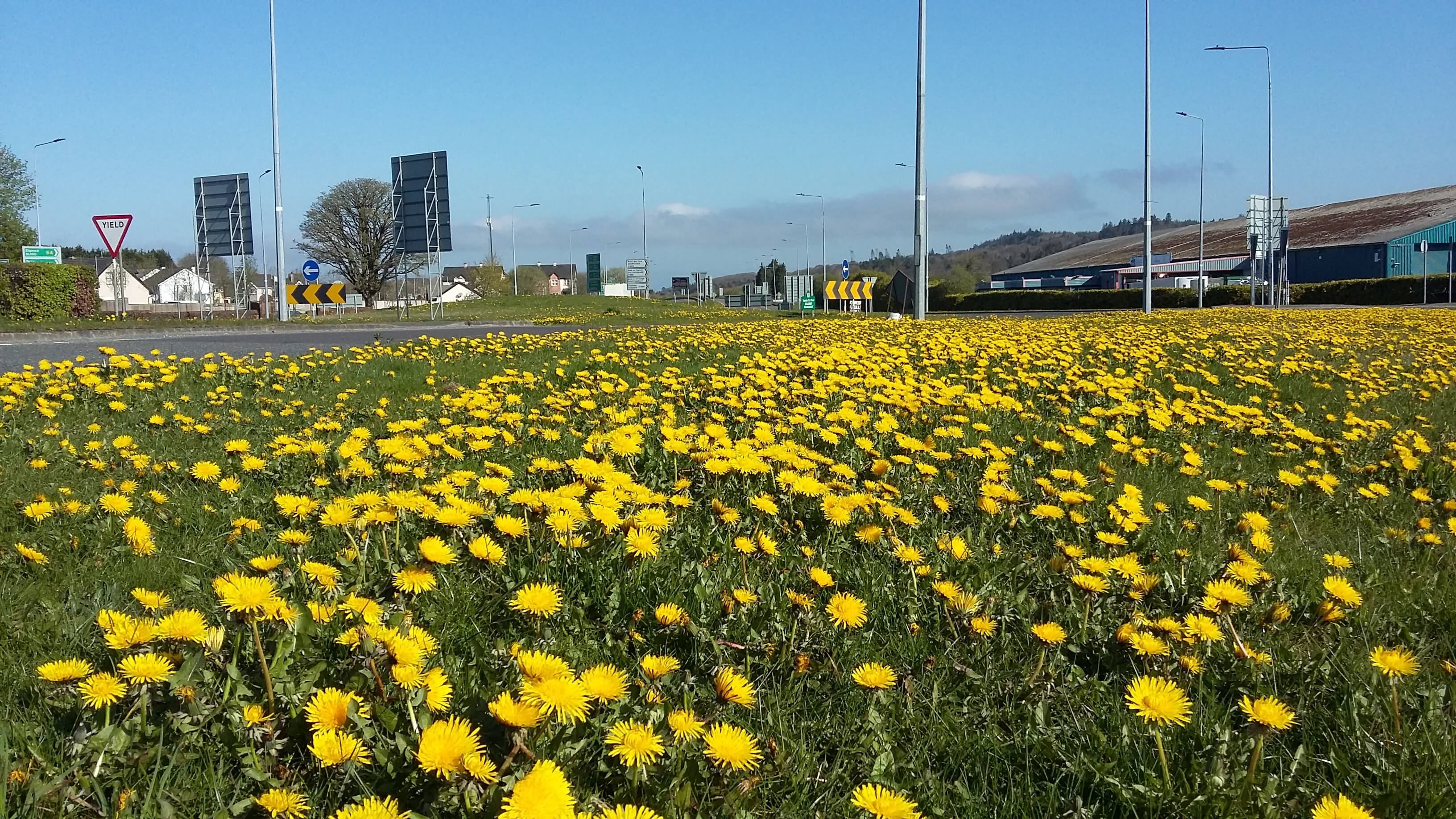 Dandelions at Collooney Roundabout
All-Ireland Pollinator Plan co-founder Dr. Úna Fitzpatrick said
"We are delighted to welcome Sligo County Council as partners of the All-Ireland Pollinator Plan. Sligo represents a variety of important habitats, from farmland to mountains, coastal to urban, which all have the potential to be places where our native pollinators can survive and thrive. We look forward to supporting the council in the implementation of their plans, and have no doubt that they, their partners, and the communities of Sligo will make a huge difference to the prospects of these important insects."
Sligo now joins a growing list of local authorities, non-Governmental organisations, semi State companies, academic institutions and businesses which have agreed to take action to help Ireland's pollinators. While action for pollinators is already underway across many sections of the Council, Sligo County Council aims to 'get Sligo buzzing' in the months and years ahead! Key to delivering this objective will be developing a pollinator plan for the county, supported by training for Local Authority Staff and local communities on what practical initiatives we can all undertake to help pollinators.
One great example of community action for pollinators is the Local Authority Pollinator Award. The award aims to encourage Tidy Towns groups to implement pollinator-friendly actions in their towns and villages as part of the Tidy Towns Competition. It supports the All-Ireland Pollinator Plan and is coordinated and sponsored by the Local Authority Heritage and Biodiversity Officers across Ireland, in partnership with the National Biodiversity Data Centre.
If you would like to find out more about actions for pollinators check out www.pollinators.ie or if you want to know how to become a "pollinator-friendly community" in Sligo please contact the Sligo Heritage Office at heritage@sligococo.ie.