Gerry McGwyne honoured with Civic Reception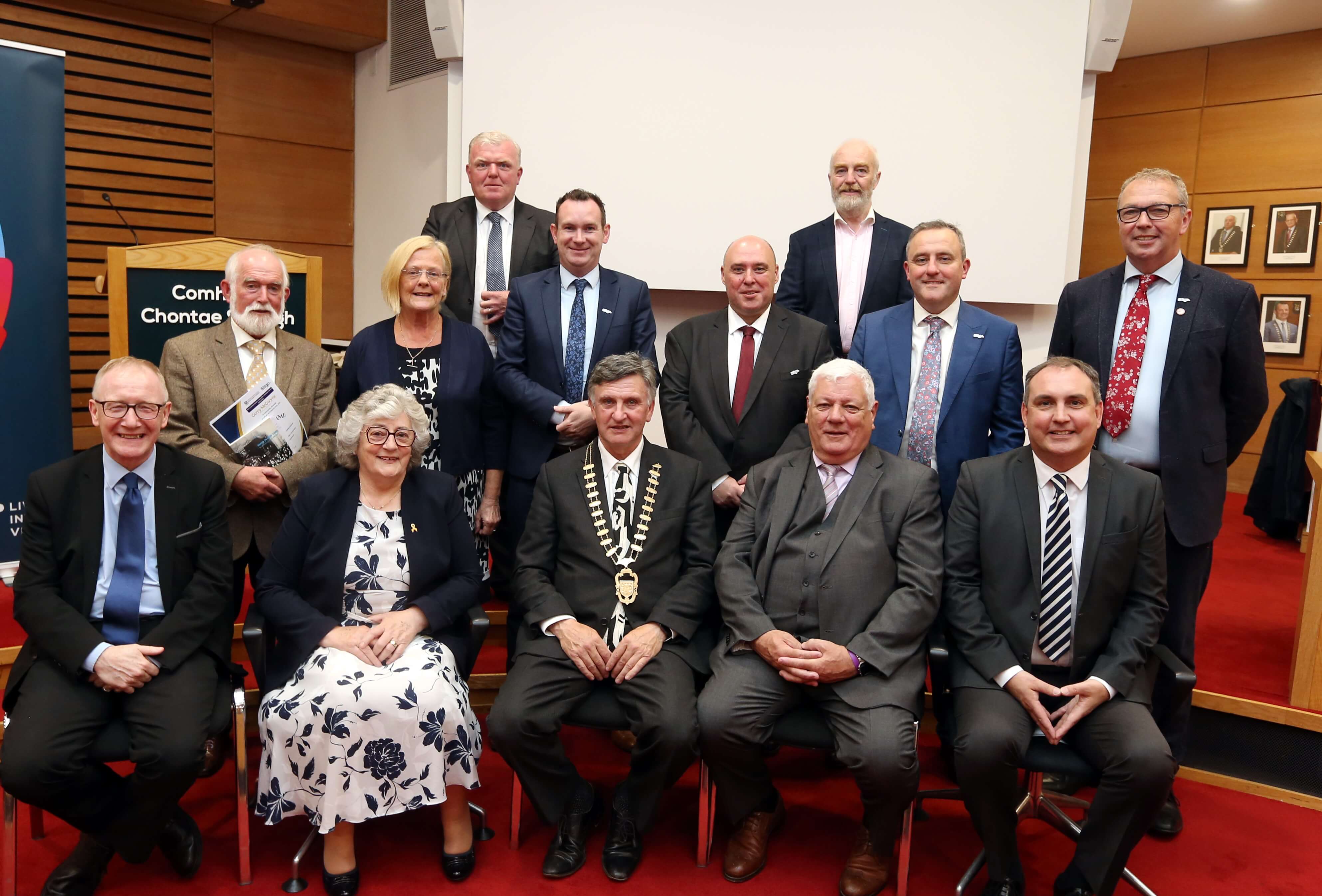 Front Row: Minister Frank Feighan; Kay McGwyne; Cathaoirleach Councillor Michael Clarke; Gerry McGwyne; Marc MacSharry, TD;
Middle Row: Martin Enright; Councillor Rosaleen O'Grady; Councillor Thomas Walsh; Jim Molloy, Director of Services; Martin Lydon, Chief Executive; Councillor Donal Gilroy;
Back Row: Councillor Tom Fox; Barley Gavin.
Gerry McGwyne has been honoured with a Civic Reception by Sligo County Council hosted by the Cathaoirleach Councillor Michael Clarke.
Calry native Gerry has been a generous supporter of many worthy causes in his home county of Sligo and adopted home of Pearl River, New York.
Gerry was joined at the ceremony by his wife Kay and family, and guests included Minister Frank Feighan, Deputy Marc MacSharry, Councillors Fox, Gilroy, O'Grady and Walsh, and Chair of Sligo Comhaltas, Martin Enright.
Exemplary Service
In his welcome address the Cathaoirleach said 'It is a privilege that my first reception to host as Cathaoirleach is to honour an individual who has given exemplary service to his community, in particular the Sligo emigrant community in New York and Pearl River. Gerry McGwyne's generosity is matched only by his modesty. He has been a discreet and valued supporter of many charities and worthy causes. He has also been a loyal and trusted friend to many people from Sligo who made New York or Pearl River their home.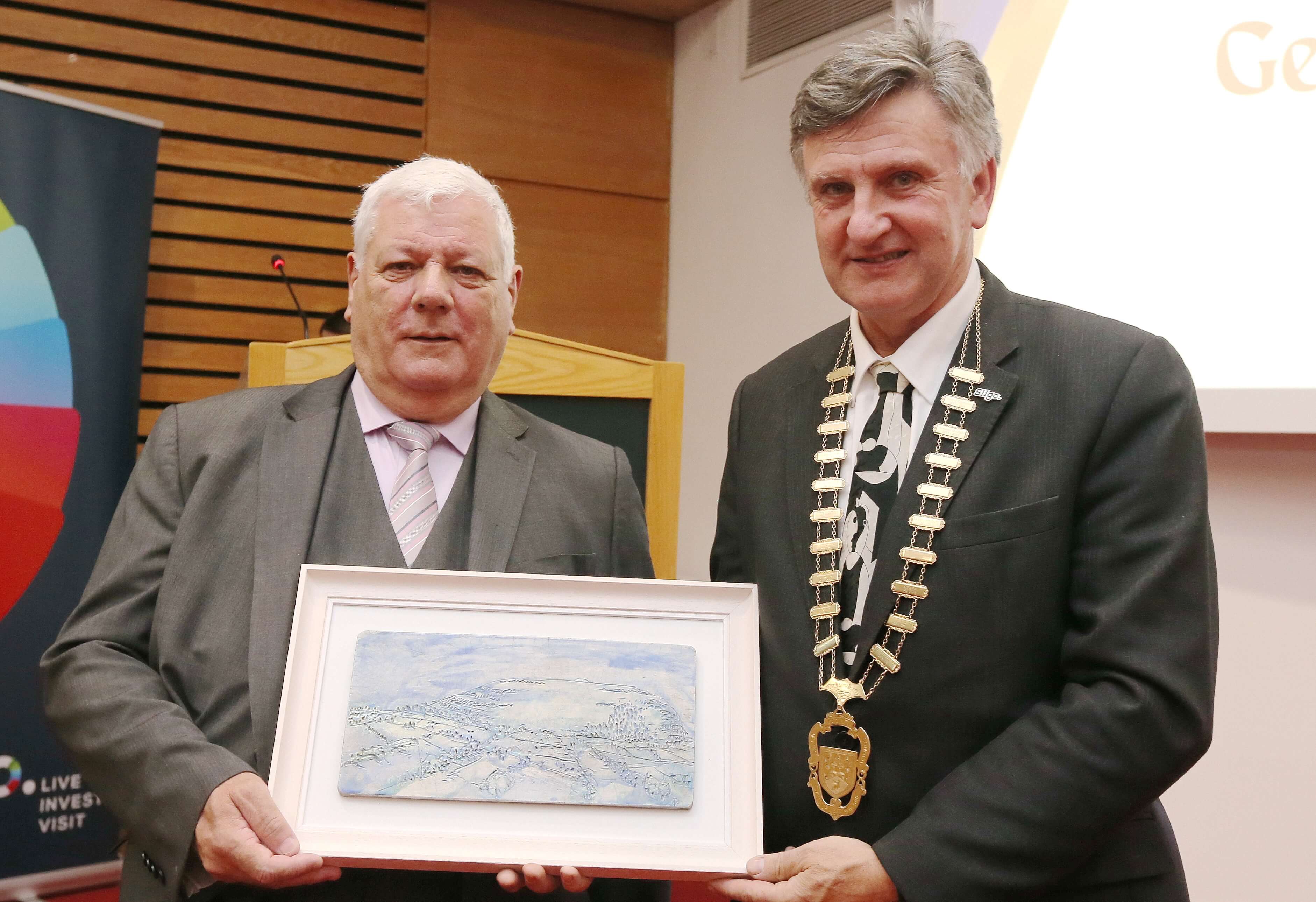 Cathaoirleach Councillor Michael Clarke making a presentation to Gerry McGwyne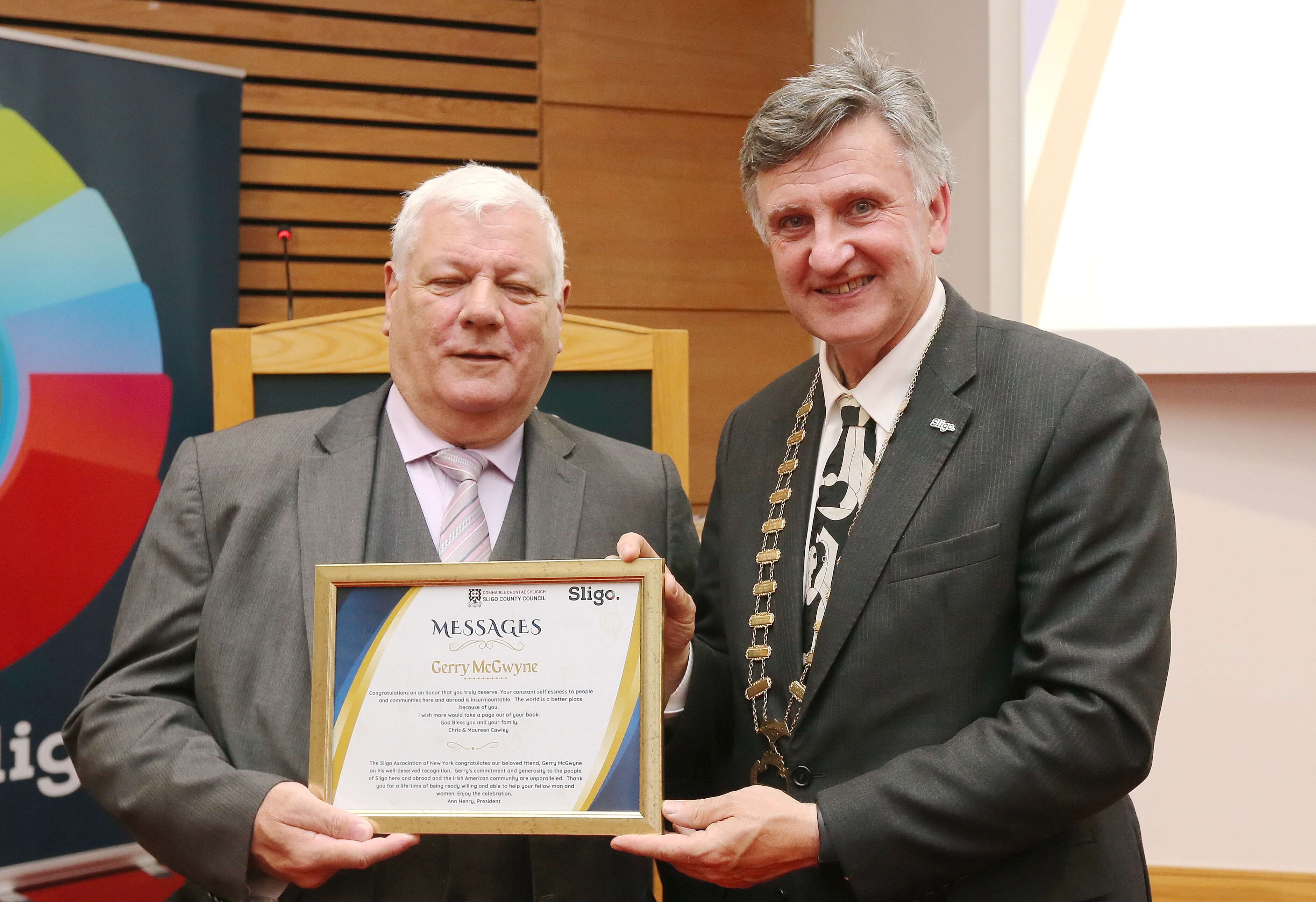 Cathaoirleach Councillor Michael Clarke making a presentation to Gerry McGwyne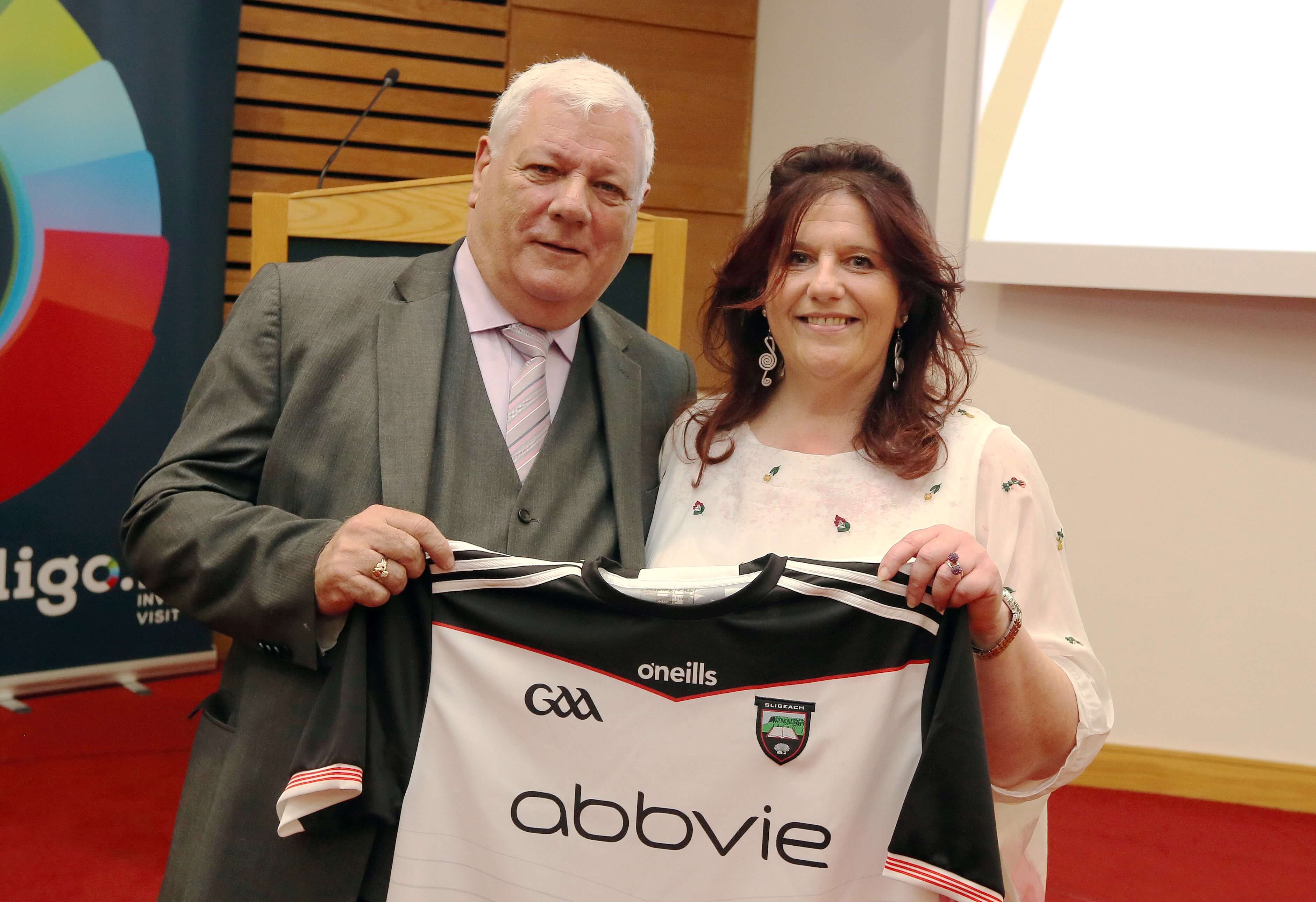 Bernardine McGauran, County Secretary, Sligo GAA presenting Gerry McGwyne with a Sligo GAA jersey
Generosity
For many young emigrants in particular, it can be a daunting experience to try and establish a new life in a new place far away from home. Gerry had made this journey before them, and had a keen sense of the challenges facing them. He offered them employment, support, and most importantly, friendship, and countless people have been touched by his generosity.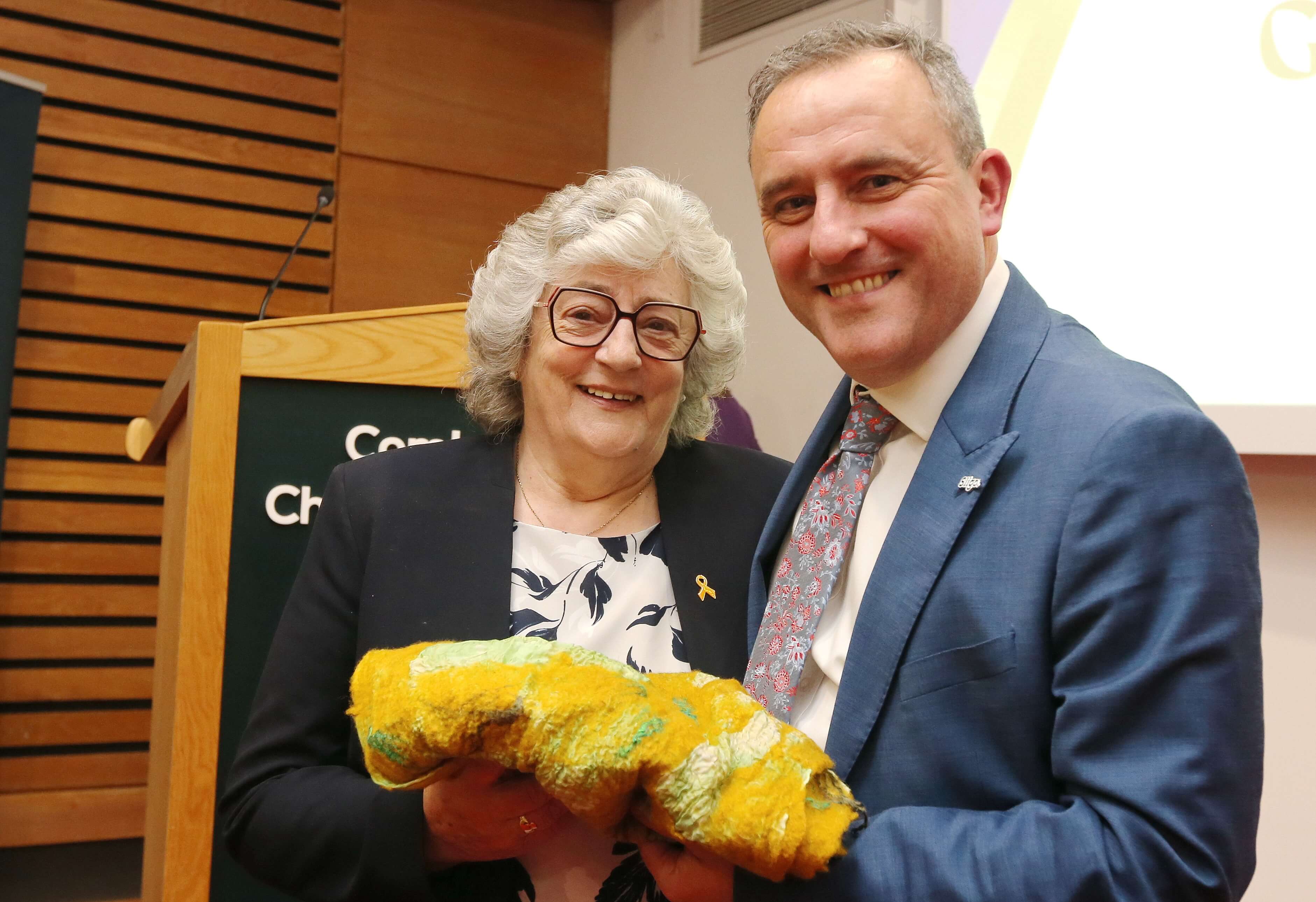 Martin Lydon, Chief Executive making a presentation to Kay McGwyne
Friendship
Given Gerry's love for his native home of Sligo and his adopted home of Pearl River, it is no surprise that he has expressed an interest in seeing a formal association explored over the coming months.
Sligo County Council is committed to working with Gerry and his colleagues in Pearl River to progress this initiative, and a meeting took place in March to establish if this friendship could be developed. I think we know from previous experience, if Gerry is interested in seeing this succeed, then it certainly will, and it is an association that has the potential to bring significant benefits to both communities, particularly in the area of tourism.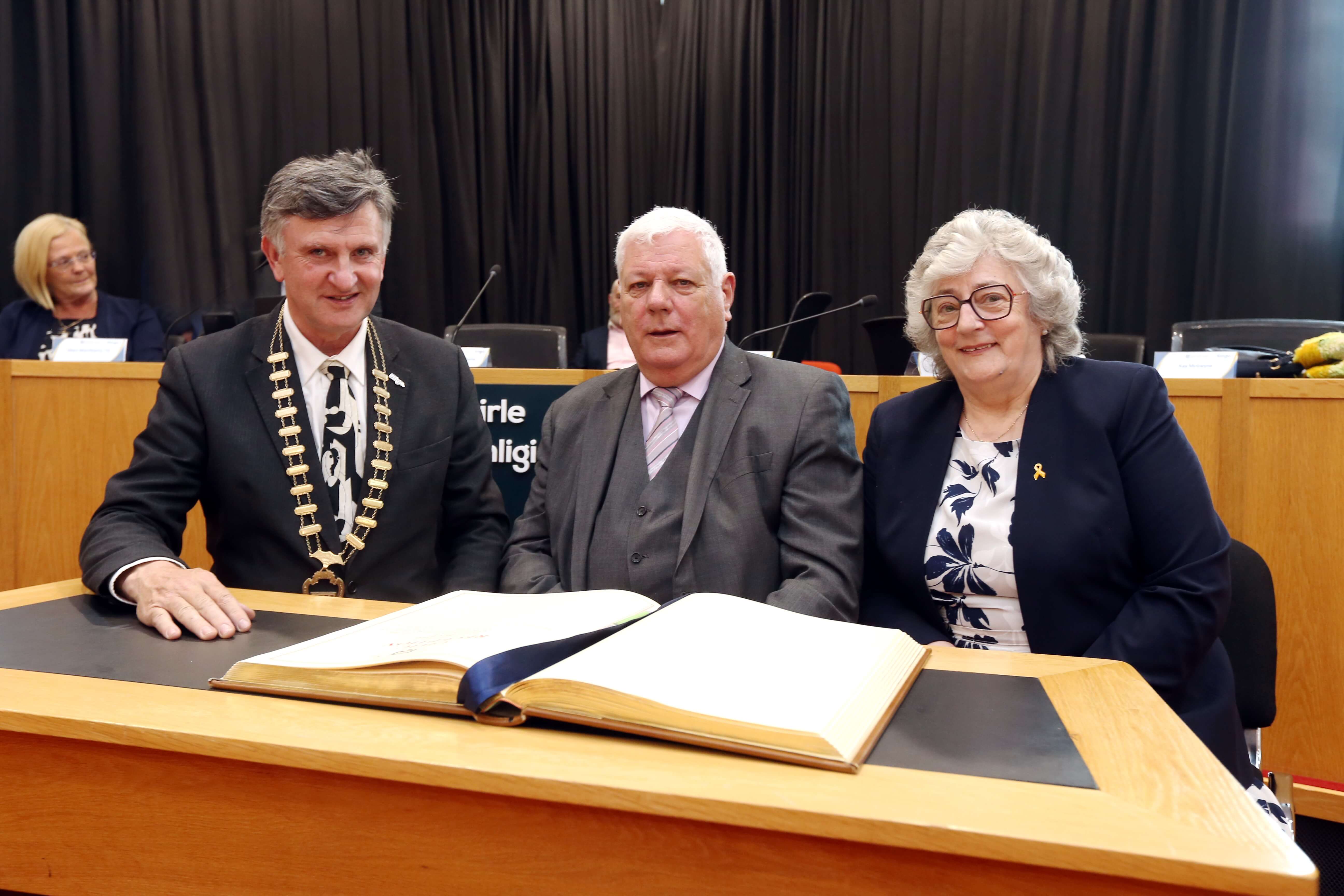 Cathaoirleach Councillor Michael Clarke, Gerry McGwyne and Kay McGwnye with the Distinguished Visitors Book
Accolade
Gerry has been a benefactor all his life, he has devoted his time and energy in supporting others. This evening, we offer our thanks to Gerry on behalf of this Council, this community. We do so in the presence of some of the many people he has touched over the years. To be so highly regarded by two communities is a rare and special accolade, but Gerry has earned that status in Sligo and Pearl River.'
The Cathaoirleach concluded his address by conveying to Gerry 'our admiration, gratitude and respect for his lifetime of achievement and generosity.'
In addition to the many tributes paid to Gerry at the reception, guests were shown video messages from friends home and abroad, including Carmel Reilly of Pearl River Council New York, and the members of Sligo New York Football Club.
Music at the ceremony was provided by Comhaltas musicians Niamh Farrell, Deirdre Farrell and Kate Gavin.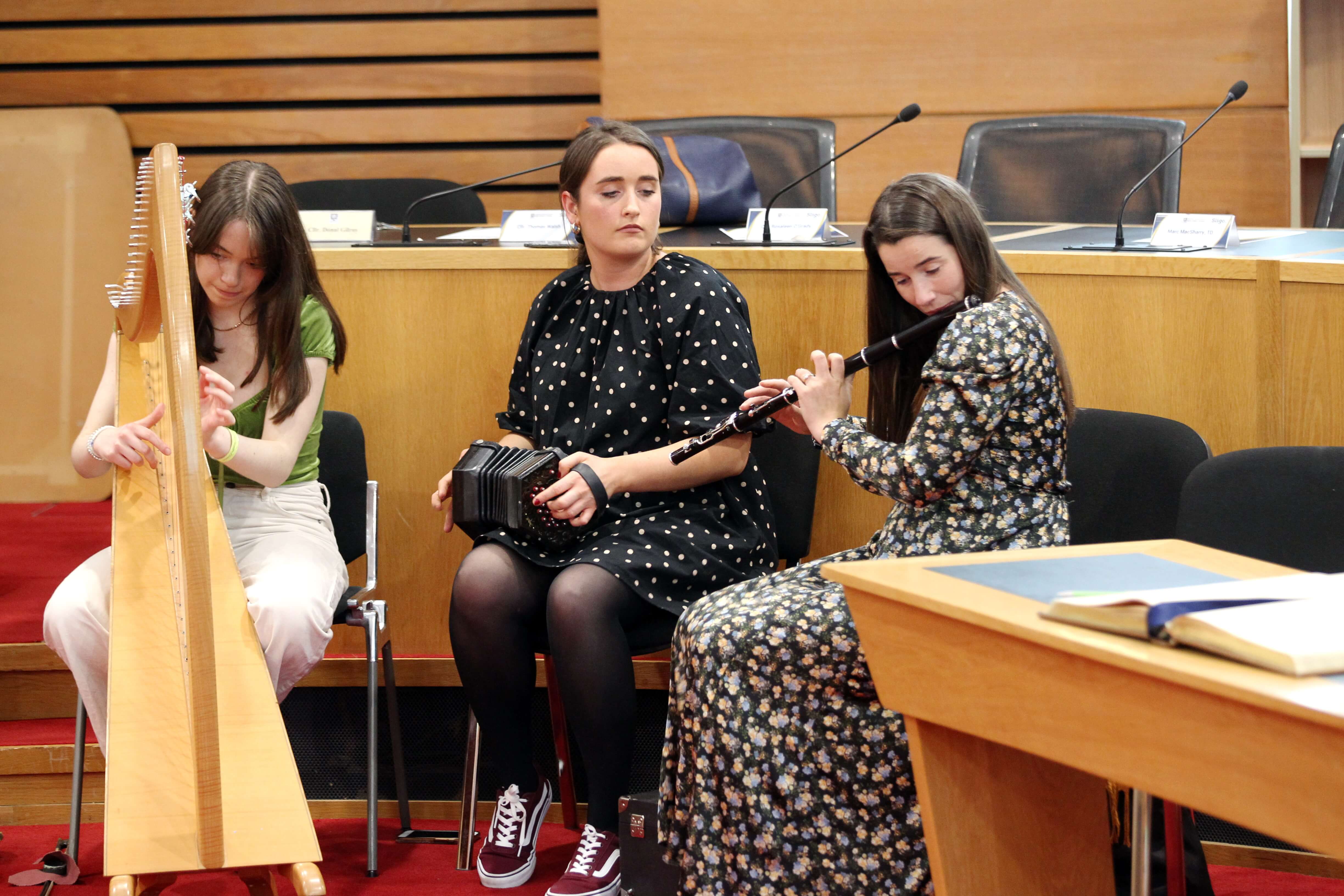 Kate Gavin, Deirdre Farrell and Niamh Farrell who provided music and song