Route Strengthening and Surface Replacement Works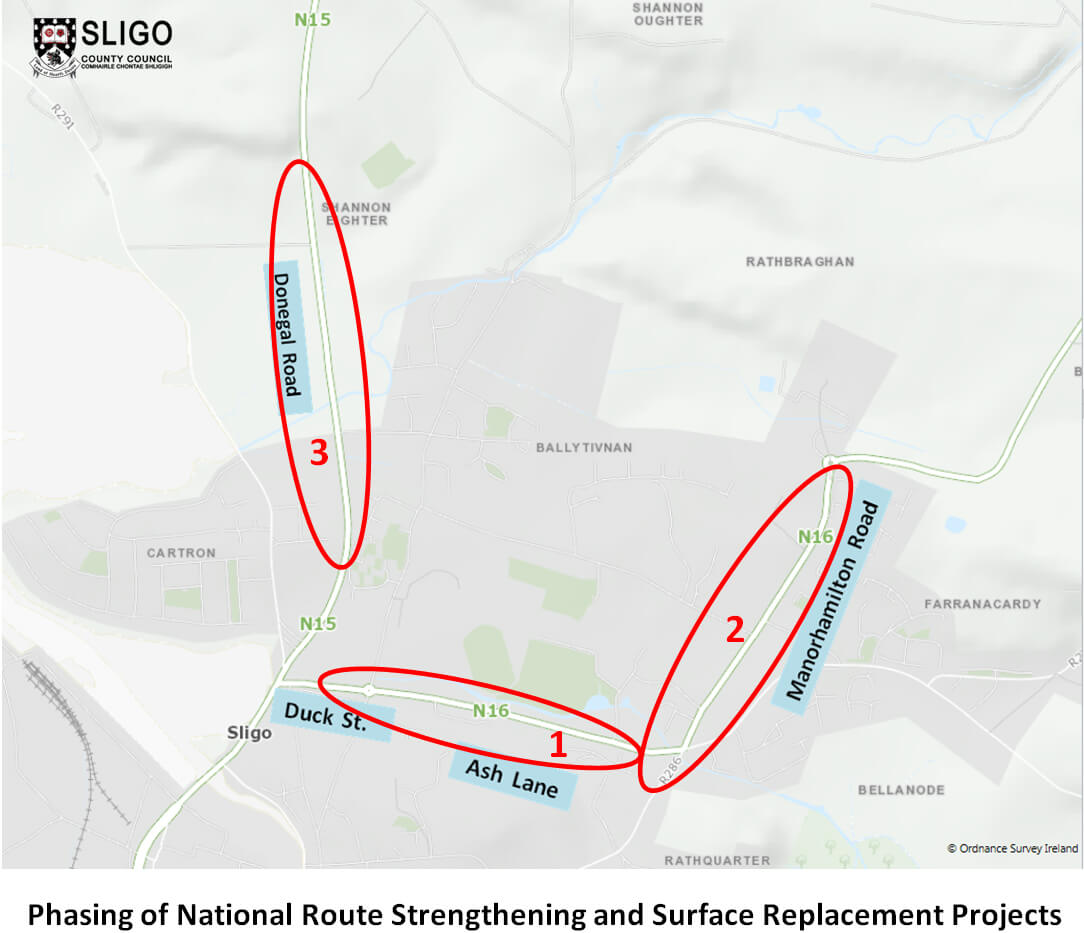 This year Sligo County Council have plans to carry out road repairs and provide a new surface to three sections of national primary routes on the northern fringes of Sligo City. Two of these will be on the N16.
The first takes in most of Ash Lane and Duck Street. It started in early February and is due for completion by late March.
The other N16 project will continue from eastern the end of Ash Lane and take in all of the Manorhamilton Road as far as the Abbvie Roundabout. This second project is scheduled to run from early April until mid May.
The third project will be on the N15, starting at Cartron Hill Service Station and finishing approximately 1km further out the Donegal Road near the location of the old Borough boundary.
All of these projects are being constructed to have a 20 year design life.
There is no doubt that the roll out of these projects will have an ever increasing impact on traffic flows. The scheduling of the projects is being arranged in an effort to minimise their inevitable adverse impact on traffic. The project teams have been, and will continue to liaise with other project teams working in the vicinity, most notably Irish Water, to ensure that there is no conflict between separate traffic management plans and diversion routes. Sligo County Council will endeavour to keep motorists informed of the changing traffic management arrangements as the separate projects progress. This will be done through updates on this website, our other social media platforms and local media.
Project 1. Duck Street and Ash Lane – Traffic Management
For the week commencing Monday March 12th the following traffic management arrangements will be in operation.
Traffic will only be permitted to travel one-way along Duck Street and Ash Lane in an easterly direction. Traffic wishing to travel from the Manorhamilton or Calry side of Sligo City towards the N4 and Dublin will continue to be diverted onto Clarion Road but will be directed to join the N15 near Supermacs. Traffic wishing to travel northwards towards Grange, or in the direction of Donegal and N15 will continue along the Old Bundoran Road to join the N15 near Bertie's Pitch and Putt. These diversions are likely to cause delays, and motorists may need to allow additional time for journeys especially during the morning peak.
The image below illustrates the restrictions and diversions which will be in operation.