Launch of Disability, Inclusion and Access Strategy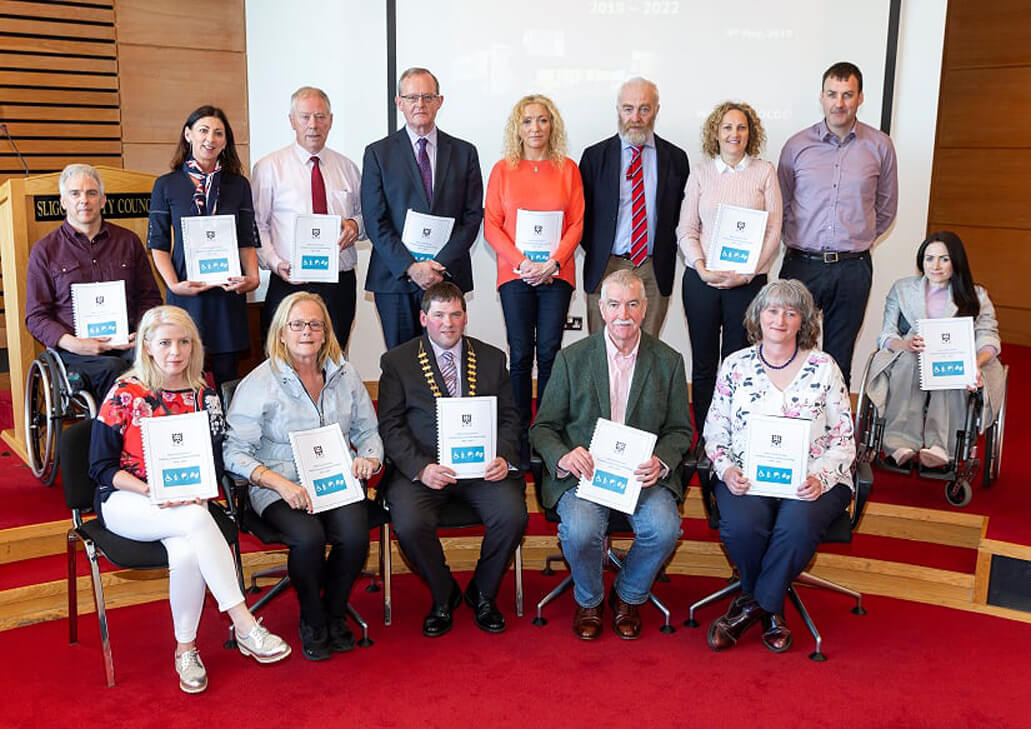 Download Disability, Inclusion and Access Strategy 2019-2022 (PDF)
- 910 kbs

Sligo County Council's Disability, Inclusion and Access Strategy 2019-2022 was launched in Sligo County Hall on Thursday. The launch was attended by the Cathaoirleach of Sligo County Council, Councillor Martin Baker, Chair of the Disability Consultative Committee, Councillor Declan Bree, and Susan Carton, Lecturer and Programme Director St Angela's College.
The Cathaoirleach Councillor Baker said
'Issues surrounding access and inclusion are among the most important to be addressed by this Authority, and I am especially pleased that this Strategy is being launched in the lifetime of this Council. I know the incoming Council will be fully supportive of your important work as the various actions set out in the plan are delivered.
Expertise
A measure of any society is the extent of our actions in the areas of disability and inclusion. The objectives you have agreed have been framed from the collective experience and expertise of your committee members. However the delivery of a society where the rights of people with disabilities are respected is not the sole responsibility of the local authority - every person has a duty to work towards a fair, inclusive society.
Inclusive
The development of the plan was a thorough and inclusive process, and this was shown in the scope and quality of the submissions received which form an integral part of the strategy. The local authority has a responsibility to provide the resources required to ensure the targets are delivered and people with disabilities are supported and encouraged to realise their full potential While the general public are supportive of this agenda, they need a formal structure and a clear roadmap to guide their endeavour and this is the true value of this document.'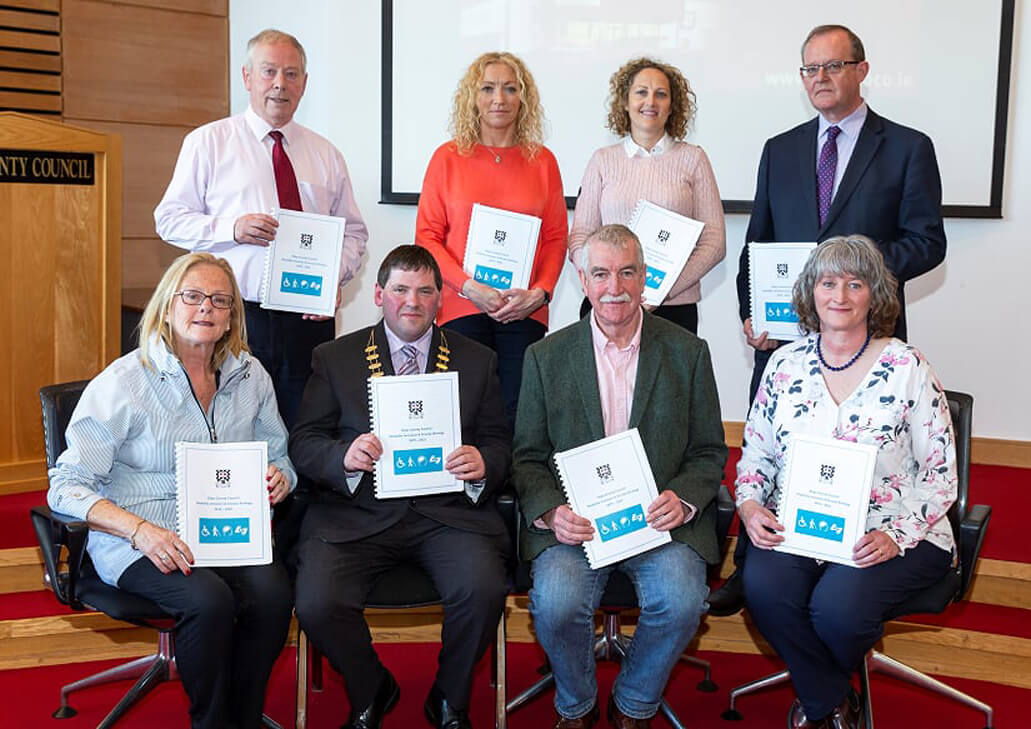 Front row Left-Right: Mayor Councillor Rosaleen O'Grady; Cathaoirleach Councillor Martin Baker; Chair of the Disability Consultative Committee, Councillor Declan Bree; Susan Carton, St Angela's College; Back row: Councillor Seamus Kilgannon; Councillor Marie Casserly; Councillor Sinead Maguire; John Moran, Senior Executive Officer
Starting Point
Chair of the Disability Consultative Committee, Councillor Declan Bree said
'I regard today's launch, not as the culmination of a process, but as a pivotal starting point to introduce the measures and oversee the actions outlined in the strategy. It is one of the most important documents published by this Council over its five year term. It is estimated that 15% of County Sligo's population have a disability, and they encounter various challenges in their every-day lives.
Opportunities
It is our duty as a Local Authority, in conjunction with other stakeholders, to help people overcome these barriers and deliver a society where people with disabilities enjoy the same services and opportunities as other citizens. When the National Disability Inclusion Strategy was launched in July 2017, the Minister of State for Disability Issues Finian McGrath noted the distinction between actions and outcomes. It is an important distinction. The various actions we have agreed and documented must result in tangible outcomes, and our committee will be vigorous in monitoring the delivery of the strategy's recommendations.
Extensive Consultation
It is also important that identified actions must be accompanied by a specific timeframe, the measures we have agreed are not just aspirational, but real and achievable. A document of this scale and significance would not have been possible without the valued input from a number of people. An extensive public consultation process ensured meaningful engagement with all stakeholders and the wider community in developing a new plan. These contributions have resulted in many welcome amendments to the plan being agreed, all of which are now incorporated in the re-titled "Sligo County Council Disability Inclusion & Access Strategy 2019 – 2022".
Inclusive Society
I offer sincere thanks to my colleagues on the committee, who have worked tirelessly to bring this strategy to fruition. While we brought various perspectives and priorities to our committee meetings, we shared a common vision to improve our society, and I believe this consensus is reflected in the final document. The social model perspective on disability outlines a vision of an inclusive society, where people with disabling conditions are facilitated to participate equally and fully in all aspects of social life.
Inherent Dignity
In promoting and delivering these actions, we adopt the guiding principles of the UN Convention on the Rights of People with Disabilities, foremost among them respect for inherent dignity and individual autonomy. The membership of our committee may change following forthcoming local election and the Council's AGM, but the incoming Council and our committee will remain firmly focused and fully committed to the ideals and objectives set out in the Strategy.'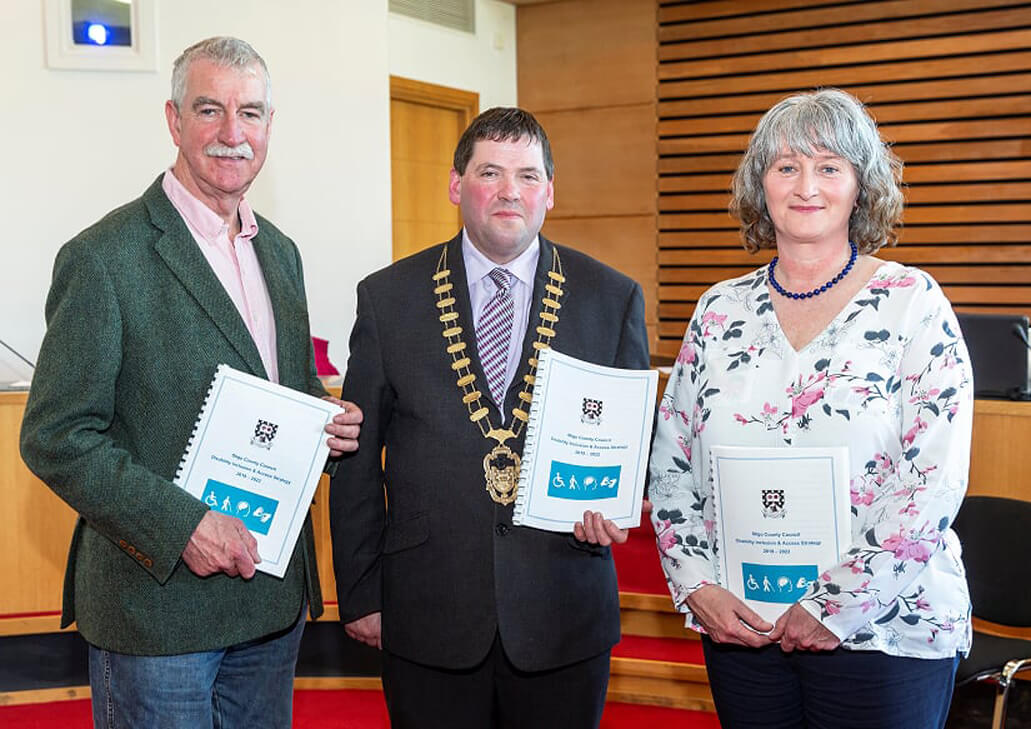 Attending the launch of the Disability, Inclusion and Access Strategy were: Councillor Declan Bree, Chair of the Disability Consultative Committee; Cathaoirleach Councillor Martin Baker; Susan Carton, St Angela's College
Social Model
Susan Carton, Lecturer and Programme Director St Angela's College, said
'The social model of disability redefines disabled people's position and status, by framing the causes of disability in social terms rather than viewing the person's impairment as the problem: it refers to the ways in which the physical, cultural and social environments exclude or disadvantage disabled people. In this way, disabled people tell us they have been able to express their situation in terms of human rights, and as an issue of equality, aligning themselves with other oppressed groups.
Transformative
It's not my place to speak about the lived experience of disability – that is the preserve of disabled people themselves. If we want to know anything about being disabled, we must speak with a disabled person, who identifies as being disabled. However, for non-disabled people, particularly those of us working in the 'sector', the social model also has the ability to be utterly transformative. This is because, like no other model, it facilitates us to reflect deeply on how we perceive and respond to disability. This should be the starting point - our values and beliefs create the context for our thoughts – and our thoughts lead to our actions.
Discrimination
Whatever way we look at it, what we have been doing up to now has not worked well for most disabled people. The statistics bear this out, lower levels of education and employment and higher levels of poverty are outlined in the report produced by the Irish Human Rights and Equality Commission and the ESRI six months ago. This report details the continuing discrimination against disabled people – and this, 23 years after the Strategy for Equality produced 402 recommendations to address the status of disabled people in Ireland.'
Disability, Inclusion and Access Strategy 2019-2022 (PDF)
- 910 kbs