Councillor Tom MacSharry elected Cathaoirleach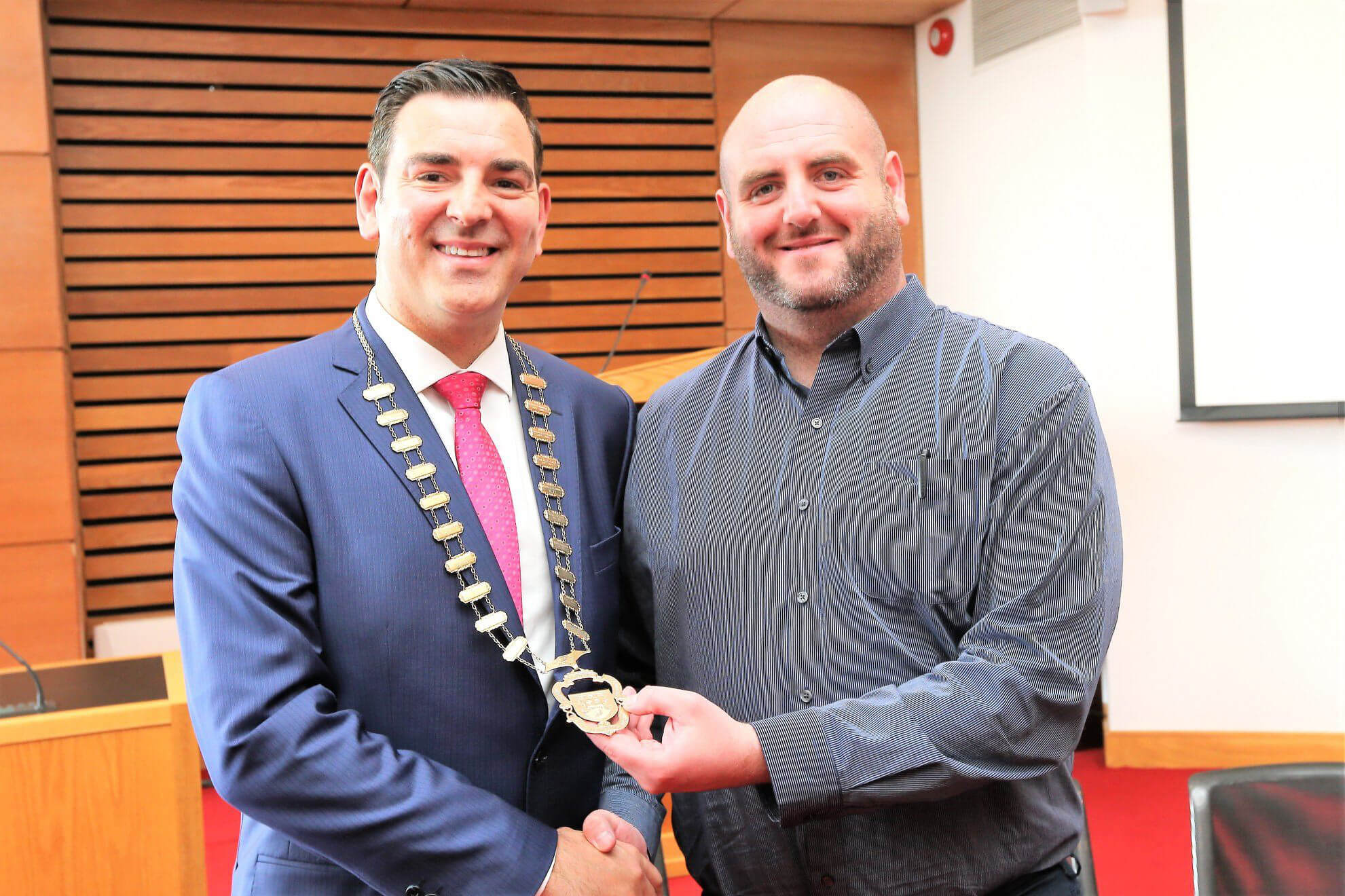 The Cathaoirleach identified a number of priorities he wishes to see progressed over the course of his term: 'I would like to see Sligo County Council adopt a realistic approach to the delivery of an affordable housing programme, one that is framed to meet the needs of a growing population and a rapidly developing city and county.
Inclusive
I want to be an inclusive Chair who respects the individual needs and demands of every Councillor from each political party and none. I want to ensure each Councillor is given the chance and forum to advance issues that affect them and their electorate. We might bring differing objectives and priorities to the Council Chamber, but we are united in a common ambition to see Sligo grow and develop.
Unprecedented Investment
There are many other challenges to face, many other projects to deliver, but with your support this Council will deliver for the people and communities we serve. While there will be debate and disagreement, there is more to unite than divide us. If you consider where we were a few short years ago, Sligo is now on the cusp of something very exciting - the unprecedented investment in our roads network, the recent announcements in relation to enterprise and jobs, our first class hospitality sector and progressive third level colleges - when you combine these positives with our cultural and literary heritage, our outstanding scenery, unrivalled walkways and trails, Sligo is without doubt a special place to work in, live in or visit.
Energise Communities
I think Sligo is perfectly positioned to continue the progress of recent years. Collectively, this Council should focus on the positive, talk up and promote Sligo, energise our communities and work alongside key partners who share our ambition and drive. The Council has a pivotal role to play;
The local authority is the arm of Government closest to the people, and this bestows significant responsibilities- the public we serve expect and deserve leadership, they want to see our county grow and realise its potential. I believe Sligo County Council has the will and capacity to fulfil this role, and I look forward to working with my fellow Councillors and executive to deliver on our shared ambition.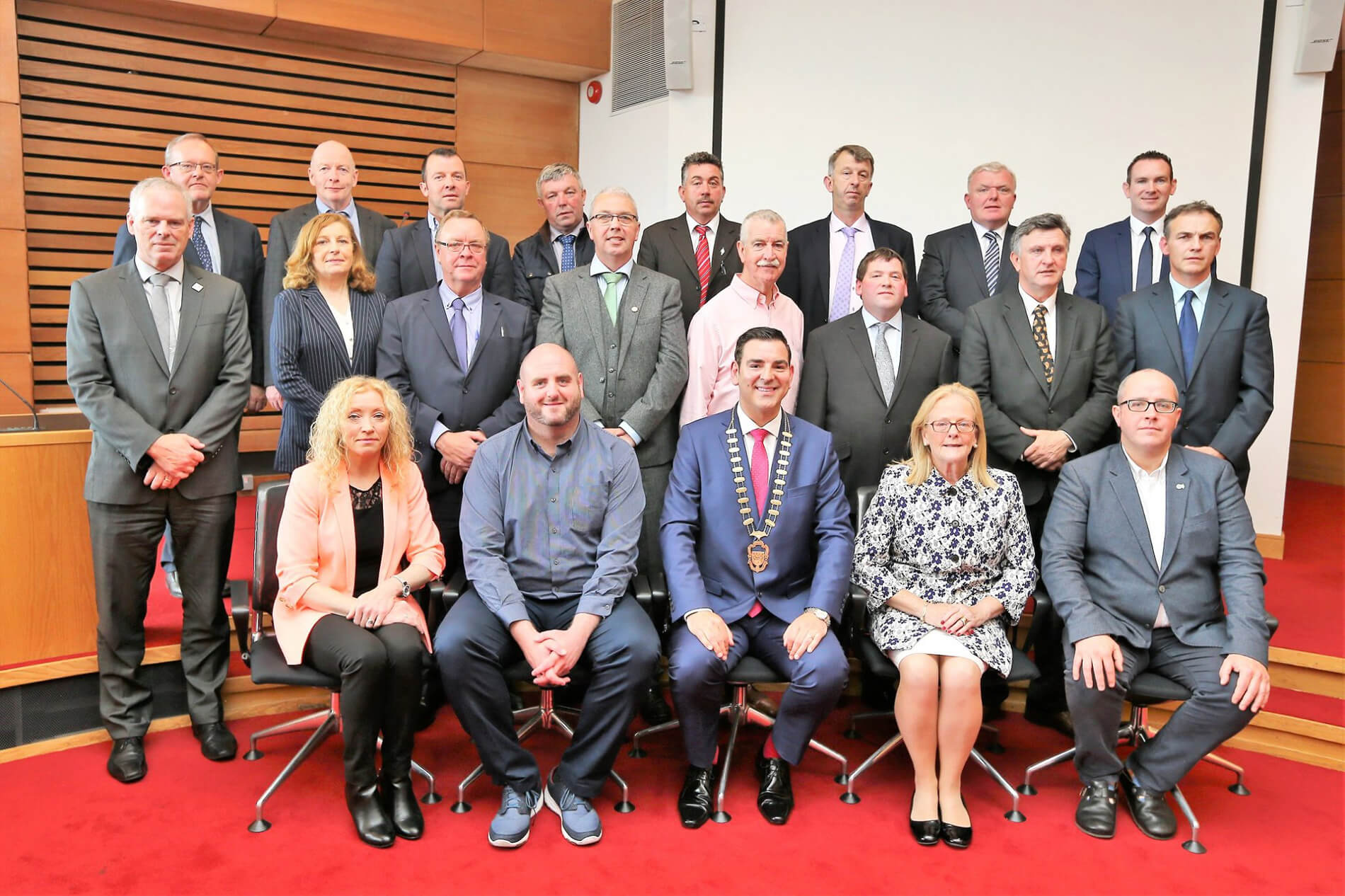 Back Row (left to right): John Moran, Senior Executive Officer SCC; John Reilly, Head of Enterprise Local Enterprise Office SCC; Councillor Paul Taylor; Councillor Joe Queenan; Councillor Thomas Healy; Councillor Gerard Mullaney; Councillor Tom Fox; Councillor Thomas Waslsh;
Middle Row (left to right): Ciarán Hayes, Chief Executive SCC; Dorothy Clarke Director of Services SCC; Councillor Martin Connolly; Councillor Donal Gilroy; Councillor Declan Bree; Councillor Martin Baker; Councillor Michael Clarke; Councillor Dara Mulvey;
Front Row (left to right): Councillor Marie Casserly; Councillor Gino O'Boyle; Cathaoirleach Councillor Tom MacSharry; Councillor Rosaleen O'Grady; Councillor Chris MacManus;
(Missing from photo - Councillor Sinead Maguire)